"It's performance art": Lawyer for Alex Jones says InfoWars founder is an actor "playing a character"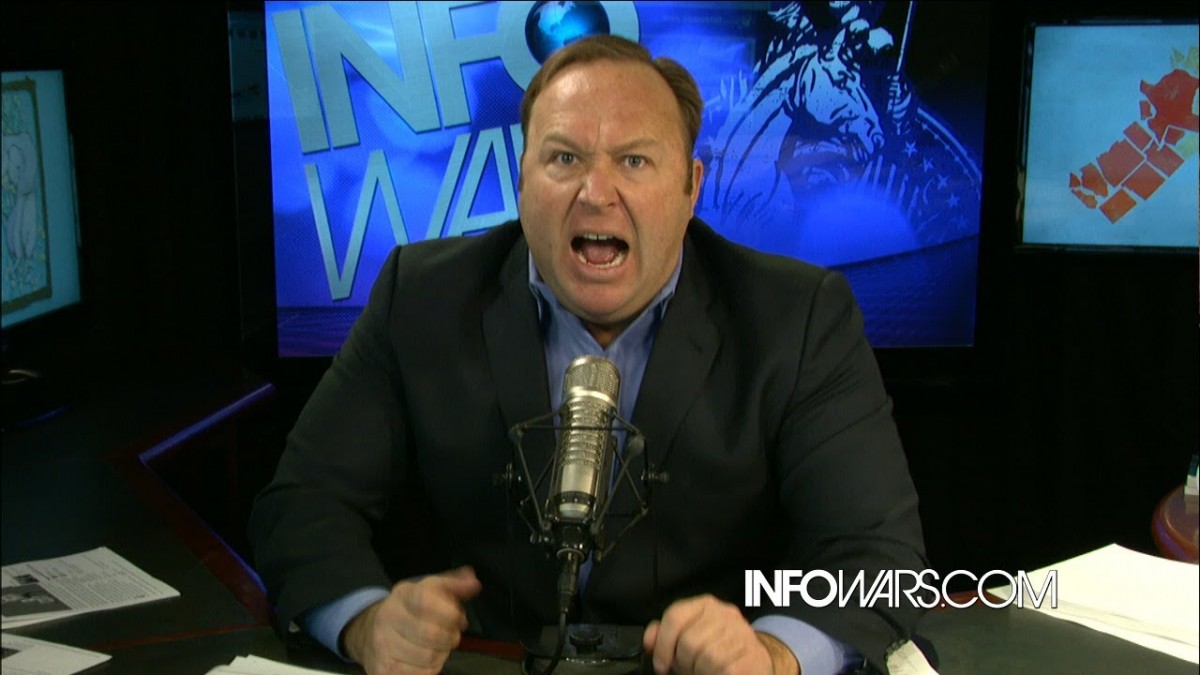 The real Alex Jones is not his bombastic, conspiratorial InfoWars persona, his lawyer is hoping to convince a Texas jury in the radio host's child-custody battle [where his soon-to-be ex-wife's charge that he's an unfit father].
That's more or less what attorney Randall Wilhite told Texas District Judge Orlinda Naranjo, the Austin American-Statesman reported on Sunday.
Wilhite told Naranjo that Jones' public personality should not be considered as material in evaluating the InfoWars founder's ability to be a father. Wilhite said doing so would be comparable to judging actor Jack Nicholson in such a custody battle based on his performance as the Joker in "Batman."
"He's playing a character," Wilhite said of Jones. "He is a performance artist."
But Kelly Jones, the InfoWars host's ex-wife who is seeking sole or joint custody of the couple's three children in the case, testified that Jones' InfoWars personality was indeed the real Jones.
"He's not a stable person," she said, according to the newspaper, before mentioning recent rants Jones went on while on the air. "He says he wants to break Alec Baldwin's neck. He wants J-Lo to get raped."
"I'm concerned that he is engaged in felonious behavior, threatening a member of Congress," she said, referring to comments the host made earlier this month about Democratic Rep. Adam Schiff of California. "He broadcasts from home. The children are there, watching him broadcast."
The couple's three children, ages 14, 12, and 9, have lived with the InfoWars host since the pair divorced in 2015.
Jury selection begins in the case Monday.
Jones, with millions of followers, rose to new prominence during the 2016 election cycle after Donald Trump, then the Republican frontrunner, appeared on his broadcast in late 2015. Trump's Democratic challenger in the election, Hillary Clinton, called Jones out in a speech she delivered in August that targeted Trump's support from the so-called alt-right.
Jones' radio program and website frequently traffics in conspiracy theory. He has claimed the Sandy Hook Elementary School shooting was a "false flag" operation and that September 11 was an "inside job" carried out by the government, and he has previously promoted the "Pizzagate" conspiracy with vigor, recently having to apologize on the air for some of his actions related to it.
An unabashed supporter of Trump, Jones recently criticized the candidate for ordering a missile strike on a Syrian government airfield, claiming that the chemical-weapons attack linked to Syrian President Bashar Assad that preceded it was a false-flag operation committed by Assad's opposition.
http://www.businessinsider.com/lawyer-alex-jones-infowars-playing-character-acting-2017-4
Alex Jones Responds To Claims That He's An Actor
Alex Jones, the founder of InfoWars, is currently battling his soon-to-be ex-wife's charge that he's an unfit father because of his on-air rants and outbursts.
His ex-wife's lawyers are claiming that he is an unstable parent, and they have years of tape to prove that he's unfit.
Whether we point to Jones calling Sandy Hook a conspiracy theory, how he pushed "PizzaGate" to his base, or that he challenged Democratic Rep. Adam Schiff to cage fight last week — Jones has a long history of being highly provocative.
Jones' defense to these claims is that he is simply "playing a character."
He's a "performance artist," argued attorney Randall Wilhite, and judging his stability based on that performance "would be like judging Jack Nicholson based on his portrayal of the Joker in Batman."
Jones addressed all of this during his show on Wednesday. He used a ton of wild examples to argue that just because he goes "full-fledged into something," that doesn't mean that he is actually endorsing it.
"They think you're completely stupid and completely mentally ill," Jones said. "If I put a top hat on and play the part of the head of Goldman Sachs saying 'I'm screwing you over' … I'm illustrating how George Soros and other people think of you. I don't literally believe that."
Jones ended his monologue Wednesday telling his listeners to visit the InfoWars website, adding: "…they're so scared of that site. Because it's telling the truth and it's breaking the conditioning, it's breaking the trance. "
The importance of this is that Jones has made a fortune being highly provocative. Is it all an act for attention or is he really just overly boisterous? Going forward it could have a huge impact on his following and his base.
Here's the full video. Jones begins to address the "actor" claims around the 3:05 mark on the video.
http://www.redstate.com/mwalsh8/2017/04/19/alex-jones-responds-claims-hes-actor/