What's wrong with America? Pew poll says Americans giving up on G-d

How else could so-called "conservatives" vote and fully support someone like Donald Trump?
Half of Americans who have left their church no longer believe in G-d, leading a surge of nearly one quarter of the nation who have no affiliation with any religion, according to a new survey.
Pew Research Center said Wednesday that 49 percent of what they term "nones" left their church and religion because they "don't believe." Another 20 percent said they don't like organized religion. Other reasons included "common sense" and a lack of believe in miracles.
The survey is the latest from Pew that demonstrates a growing trend in America: More and more people are junking religion and many are giving up on G-d.
Pew interviewed several respondents to try and find a reason. Pew Said for example:
"About half of current religious 'nones' who were raised in a religion (49%) indicate that a lack of belief led them to move away from religion. This includes many respondents who mention 'science' as the reason they do not believe in religious teachings, including one who said 'I'm a scientist now, and I don't believe in miracles.' Others reference 'common sense,' 'logic' or a 'lack of evidence' – or simply say they do not believe in G-d."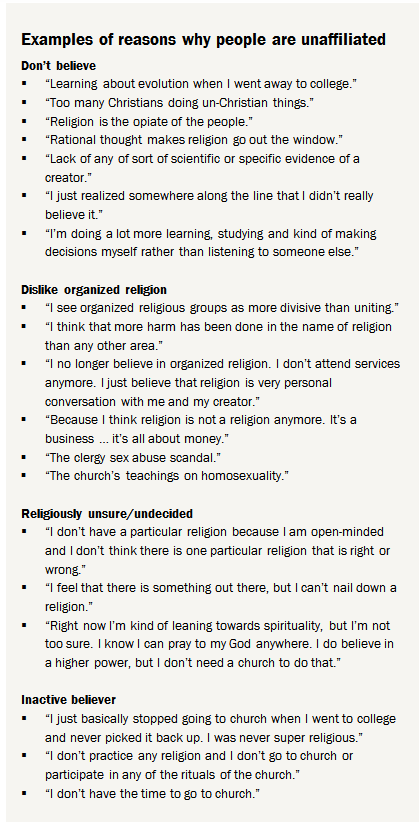 http://www.washingtonexaminer.com/pew-americans-giving-up-on-god-miracles/article/2600066