Arab Muslim Stoning Slashes Israeli Bus Driver's Eyes and Smashes Windshield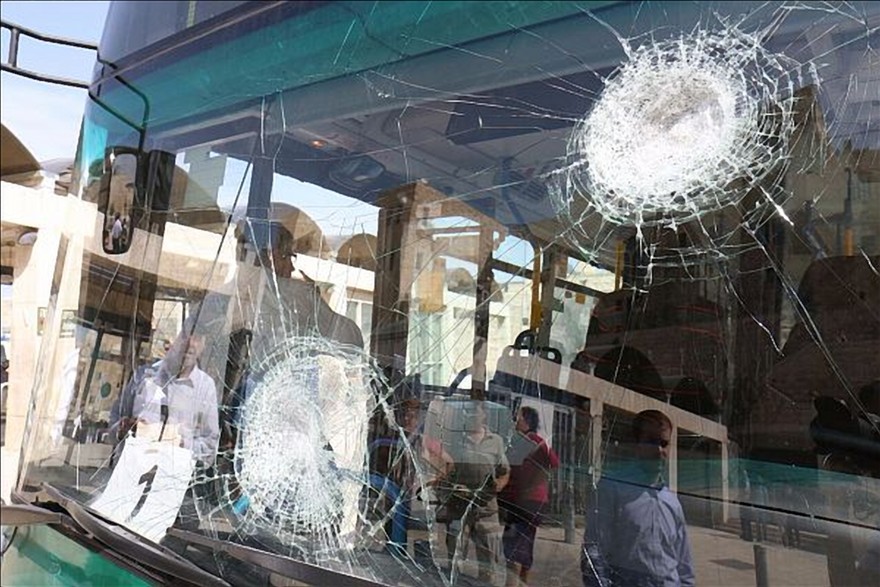 Hatzolah of Judea and Samaria reported Sunday night that Arab terrorists attacked Israeli bus #380 as it traveled along the Gush Etzion – Hebron highway (Highway 60) past the Arab village of Beit Omar, also known as Beit Ummar.
The attackers hurled rocks at the bus as it traveled past the village, but no physical injuries were reported among the passengers. The condition of the bus was not reported.
But that wasn't the case earlier in the evening, in the Binyamin region, when Arab terrorists attacked an Israeli bus as it traveled near the "T" Junction on the road north of the Jewish community of Ofra, smashing the windshield and some windows.
The heroic bus driver kept the vehicle moving, though his own eyes streamed blood after being slashed by shards of glass from the windshield, shattered by the huge stones hurled by the terrorists.
Miraculously, the driver was able to continue along the route until he arrived safely at the Jewish community of Eli. Arab attackers hurl rocks hoping to slow down such vehicles enough so they can fall upon the hapless passengers and/or drivers and murder them — or force the drivers to lose control of the vehicle and thus die in the resulting crash.
In this case, a number of passengers on the bus also sustained some physical wounds, and there were a number of others who required treatment for severe anxiety and trauma. They received treatment from Magen David Adom in the community of Eli.
Also Sunday night, Arab terrorists hurled rocks at an Israeli bus as it traveled through the Jerusalem neighborhood of A-Ram.
None of the passengers were physically injured and the bus continued along on its route despite having sustained some damage to the vehicle.
https://is.gd/Jwz9eZ