Baltimore mayor supported violence and destruction of property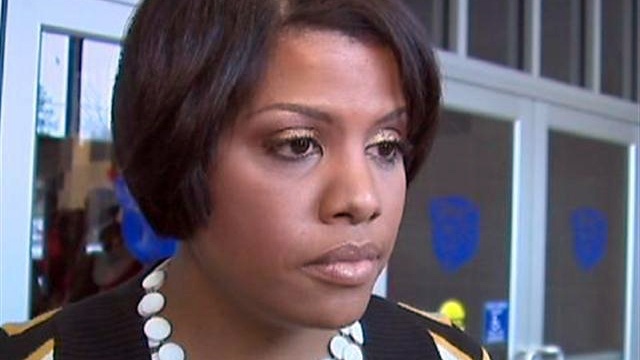 As is par for the course these days, a peaceful protest turned into a riot on Saturday as over a thousand turned out in the streets of Baltimore to protest the death of Freddie Gray. The 25-year-old black man died in police custody seven days after being arrested after a foot pursuit. It is being alleged Gray suffered a spinal injury and was not provided with immediate medical assistance.
As the Saturday protest was underway, it turned violent. Police cars were smashed, objects thrown at police officers and private property vandalized. Fans at Camden Yards who watched the baseball game between the Orioles and the Boston Red Sox were asked to stay in the stadium after the game because of what was taking place just outside the Orioles' ballpark.
In all 35 people were arrested and six police officers received minor injuries. The violence and destruction was blamed on "outside agitators."
In one statement, Baltimore's mayor Stephanie Rawlings-Blake said all the right things. She said, "I will not let those individuals put their agendas ahead of our city's."
But her tone was different when she participated at a news conference about Saturday's events. At the presser she said in part:
"I worked with the police and instructed them to do everything that they could to make sure that the protesters were able to exercise their right to free speech. It's a very delicate balancing act because while we try to make sure that while they were protected from the cars and the other things that were going on, we also gave those who wish to destroy space to do that as well." [Emphasis added]
So the Democrat Party mayor of Baltimore equated freedom of speech and freedom of assembly with the presumed "right" to smash police cars, steal, assault and throw objects at police. She could not have made it any clearer. Rawlings-Blake has a lot more sympathy for the rioters than she does for the law abiding people of her city who decided to spend a Saturday watching a major league baseball game and then got caught up in the violence.
If there was any justice such as that demanded by the protesters, Rawlings-Blake should be charged with aiding and abetting the illegal activities that transpired on Saturday. By her instructions to the police, she was helping and encouraging the violence and destruction of property take place. But that will never happen; she's a Democrat so much like Obama and the Clintons she is above the law.
The only shocking thing about what the mayor said is that in Barack Hussein Obama's America, it wasn't shocking. When it comes to black deaths at the hands of police, lies (Hands up, don't shoot) and violence are justified. Throwing objects at police officers and destroying both public and private property are justified in the same way peaceful protests are.
It would have been unthinkable, even a few years ago, to see an elected politician say it is necessary and proper to give rioters "space" in which to conduct their illegal activities. This is further proof of how the United States has fallen since the 2008 election.
A clip of Rawlings-Blake's statement can be viewed here.