Black Seed and Black Queer Liberation Protesters Block Bay Bridge – Dozens Arrested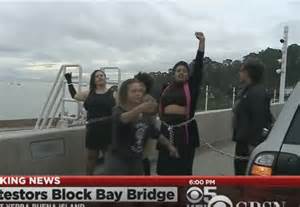 All lanes of the Bay Bridge have reopened about an hour and a half after protesters shut down all lanes just east of Treasure Island Monday afternoon, according to the local CBS affiliate KPIX.
Protesters announced just before 4 p.m. local time that they had shut down Bay Bridge traffic heading into San Francisco with a row of cars chained to each other across the Bridge.
Members of protest groups Black Seed and the Black Queer Liberation Collective took responsibility for the protest in a statement:
"We are here to move towards an increase in the health and wellbeing of all Black people in Oakland & San Francisco."
They demanded divestment of city funds in policing, investment in affordable housing, the resignation of Oakland Mayor Libby Schaaf, the termination of San Francisco police Chief Greg Suhr and Oakland police Chief Sean Whent and the termination of police officers involved in several recent shootings.
The group's press release states, in part:
For the second year in a row, the Anti-Police Terror Project (APTP) put out a call for 96 Hours of Direct Action to reclaim Dr. Martin Luther King Jr's radical legacy and take a stand against anti-Black racism and terrorism. In a courageous display of solidarity and the spirit of MLK, Black.Seed, a Black, queer liberation collective, has shut down the Bay Bridge as a show of resistance to a system that continues to oppress Black, Queer, Brown, Indigenous and other marginalized people throughout the Bay Area.
Traffic continued to be delayed even after the protesters were cleared, thanks to the massive backup they created.
A protest earlier in the afternoon had shut down the off-ramp to Interstate Highway 80 in Emeryville near Oakland. That off-ramp remained closed all afternoon.
http://www.truthrevolt.org/news/black-lives-matter-protesters-block-bay-bridge