Bowe Bergdahl Charged With Desertion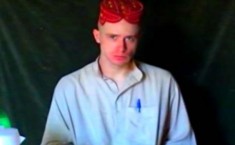 Bowe Bergdahl, who spent five years as a prisoner in Afghanistan until he was traded for five senior Taliban leaders, was charged with desertion and misbehavior before the enemy by the U.S. Army on Wednesday. According to the statute the maximum penalty for the misbehavior charge is the death penalty; however, when Colonel Daniel J.W. King, spokesman for the U.S. Army Forces Command, made the announcement (his full statement is available in the embedded video above) execution seemed too be "off the table," as he said the maximum would be life in prison.
The U.S. Army Forces Command has reviewed the army's investigation surrounding sergeant Robert Beaudry Bergdahl's 2009 disappearance in Afghanistan and formally charged Sergeant Bergdahl under the Armed Forces Uniform Code Of Military Justice on March 25th, 2015 with desertion, with intent to shirk important or hazardous duty and misbehavior before the enemy by endangering the safety of a command, unit or place, and has referred the case to an article 34 preliminary hearing. Again, Sergeant Bergdahl is charged under the uniform code of military justice with one count of article 85, desertion with intent to shirk important or hazardous duty and one count of article 99, misbehavior before the enemy, by endangering the safety of a command unit or place. As you recall, Sergeant Bergdahl disappeared June 30th, 2009, from combat outpost in Paktika Province, Afghanistan and was subsequently captured.
Colonel King went on to explain that the next step would be an Article 32 preliminary hearing, which is the military equivalent of a grand jury, and described each charge and its penalty.
When Bergdahl was released in May 2014, the President celebrated with a speech in the Rose Garden alongside Bergdahl's parents. The release was criticized as a big mistake by members of Bergdahl's own unit, who claimed he was a deserter, and by Senate Republicans because the President ignored the requirement to give the body 30 days notice before a prisoner swap such as the Bergdahl deal.
"I was pissed off then, and I am even more so now with everything going on," former Sgt. Matt Vierkant, a member of Bergdahl's platoon when he went missing on June 30, 2009, told CNN last year. "Bowe Bergdahl deserted during a time of war, and his fellow Americans lost their lives searching for him."
The Army launched an investigation into Bergdahl's conduct a month after his release and supposedly wrapped up the investigation in January. Since that time there have been unanswered media questions about the delay in releasing the findings.