Court Docs: Investigators Flag Over 300 Hillary Emails So Far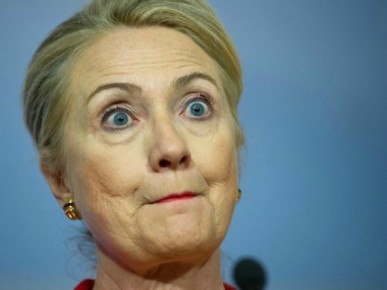 Court documents show federal investigators have flagged more than 300 emails from Hillary Clinton's email cache for potentially containing classified information.
According to several news outlets, which cite court documents, investigators have singled out 305 messages they recommend be sent to federal agencies for a closer look. Those emails were discovered after looking through roughly 20 percent of the 30,000 emails Clinton deemed work-related and turned over to the State Department for review.
The number is expected to climb, according to published reports.
Clinton has come under fire for her use of a private email address and server during her time as secretary of state (2009-2013). Investigators recently seized control of both a thumb drive containing the 30,000 work-related emails from her lawyer, along with the email server itself.
Clinton admitted to deleting about 30,000 other emails from her account that she claimed were personal in nature.
On Sunday, the Washington Times reported investigators had discovered 60 emails that contained suspected classified information.
When Clinton's server was turned over to the FBI, it had already been wiped clean of any emails she sent or received. Critics say the server was not secure and that hackers from other governments may have seen her emails, exposing American secrets and methods of intelligence gathering.
Clinton downplayed those concerns over the weekend, saying any questions about her server are part of a Republican partisan attack.
Rep. Trey Gowdy, chairman of the House Select Committee on Benghazi, denied those allegations, saying that he is certain the FBI, which now has control of the server, is nonpartisan and will deal with them fairly.
Intelligence Community Inspector General I. Charles McCullough III, who is looking into the actual emails, was appointed by President Barack Obama and confirmed by a Democrat-controlled Senate.
A report over the weekend said Clinton's server may have been backed up before it was wiped clean, meaning there could be a record of all the emails somewhere.
Washington Post associate editor Bob Woodward said Monday the email fiasco reminds him of the audiotapes that recorded President Richard Nixon's conversations when he was in office.
"You've got a massive amount of data," Woodward said. "It, in a way, reminds me of the Nixon tapes; thousands of hours of secretly recorded conversations that Nixon thought were exclusively his."
Clinton is the leading Democrat in the race for president, although her once significant lead has shrank in recent weeks.
http://www.newsmax.com/Newsfront/Hillary-Emails-FBI/2015/08/16/id/670387/