Dumbest Baltimore Protest: "They Killin' Us Alive Legally."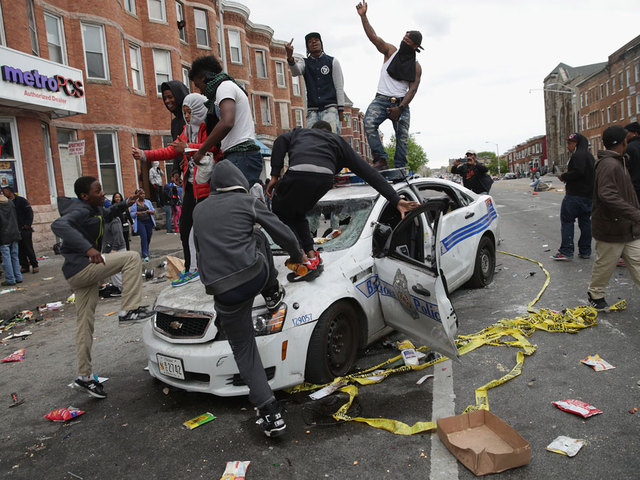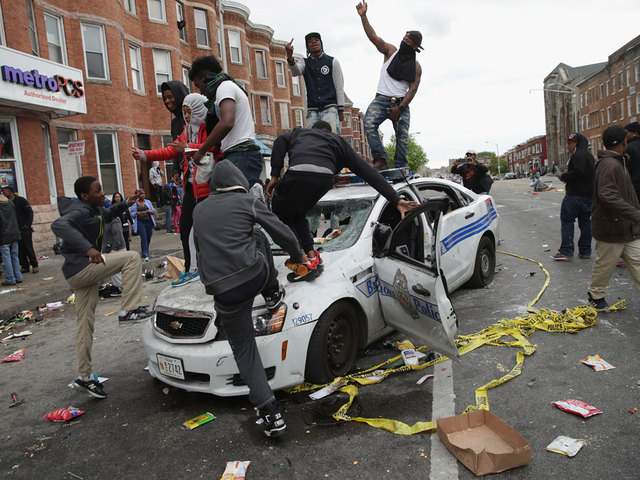 The politically motivated Freddie Gray case has collapsed. A black judge eviscerated the last pieces of it. And he'll be coming back for seconds. And whatever protesters there are, are pushing new boundaries of stupidity.
A few dozen protesters were gathered outside the courthouse as the verdict was read. One, who protested silently with half of her face painted white, carried a sign that read, "They killin' us alive legally."
As opposed to killing us dead? You could try to make sense of that sentence, but you're going to regret it.
Tawanda Jones, an activist whose brother, Tyrone West, died in police custody in 2013, said she feared for her community. "This is going to get worse now," she said. "They just proved black lives don't matter. We scream like they matter, but they don't."
Except the judge here was black. So was the officer in the current trial. And West was an illegal cabbie who died of heart problems after fighting police.
Police found no drugs on her or in the car. But as they did a pat down of West, who they said had been cooperative to that point, they saw a bulge in his sock, later determined to be a small amount of cocaine.

West pushed the officer, the woman and police both say. West had prior drug charges and was out on parole, with a violation potentially sending him back to prison until 2020, records show.

The ensuing fight seemed to go on for 10 minutes, Servance said.
And West was absolutely harmless.
WBAL-TV 11 News I-Team lead investigative reporter Jayne Miller reported that West served time in prison for dealing drugs and he has a record of resisting arrest. He was sentenced to a 20-year term in 2000 but was released in June 2012.

Court records list West at 5 feet 9 inches and 226 pounds. His criminal history dates back to 1991 and includes convictions on resisting arrest charges. The court put an attempted-first-degree murder charge on the state docket.

West has been convicted of assault and battery, using a deadly weapon with the intent to injure and handgun violations.
Oh and once again, some of the officers who don't care about black lives… are black.
On Sunday, police identified the officers as Jorge Omar Bernardez-Ruiz, Nicholas David Chapman, Matthew Rea Cioffi, Alex Ryan Hashagen, Eric Maurice Hinton, Danielle Angela Lewis, Derrick Dewayne Beasley, Latreese Nicole Lee and a Morgan State University police officer.
Isn't it time we put the lies to bed?
https://www.frontpagemag.com/point/263284/dumbest-baltimore-protest-they-killin-us-alive-daniel-greenfield