Fingerprints and DNA of at least 45 terrorists must be destroyed because police didn't fill out paperwork correctly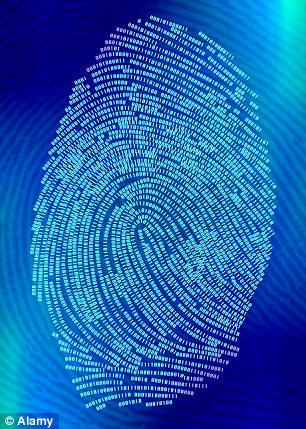 DNA of at least 45 terror suspects will have to be destroyed after police forces failed to complete paperwork in time for legal deadlines.
A report by the Commissioner for the Retention and Use of Biometric Material, Alastair MacGregor QC, revealed the error and also announced that the UK now holds DNA and fingerprints of 7,800 terror suspects – which is more than double the number projected in September last year.
The samples are from those who have been arrested by police but never charged.
The commissioner said authorities missed deadlines due to 'handling and other delays'.
By law suspects who have not had charges brought against them should have their details deleted or destroyed within six months, but police can apply for them to be kept forever under a National Security Declaration (NSD) – as they can be renewed every two years from then on.
Mr MacGregor states in the report: 'I understand that by October 31 2015 handling and other delays had led to a situation in which the statutory retention periods in respect of the biometric records of at least some 450 individuals had expired before NSDs could be or had been made in relation to them,' said Mr MacGregor in his annual report.
'Although it seems unlikely that NSDs would have been applied for and made in relation to more than a small proportion of those records, I also understand that in about 10 per cent of those cases it is possible that NSDs would have been applied for.
'Indeed, in at least three of those cases such applications had in fact been made and approved.'
In September 2015, the Director General of MI5 Andrew Parker, said police and security forces in the UK were monitoring 3,000 homegrown jihadists.
The group of men and women, mainly in their teens, have been radicalised and are willing to launch a terror attack in the UK, sources said.
Hundreds may also have trained in Syria as ISIS fighters before returning to Britain.
Andrew Parker said the six plots foiled at home in the past couple of years 'is the highest number I can recall in my 32-year career, certainly the highest number since 9/11'.
His agency has also helped to foil a further nine plots overseas while the Government is said to have a 'kill list' of British jihadis in Syria they want to assassinate.
On the home-grown threat, Mr Parker warned: 'Most of the people who try to become involved in terrorism in this country are people who are born and brought up here, have come through our education system and have nonetheless concluded that their home country, the country of their birth, is their enemy.'
http://www.dailymail.co.uk/news/article-3488103/Fingerprints-DNA-45-terror-suspects-destroyed.html