Four black teens in custody after gang rape at New York City playground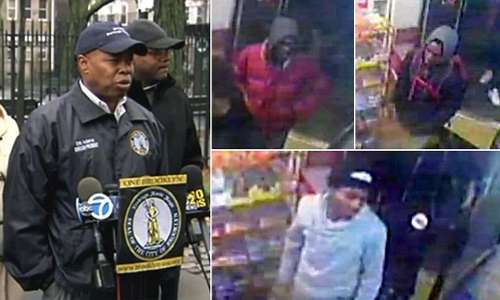 Four of five teenagers accused of raping an 18-year-old woman at a Brooklyn, New York playground were in custody late Sunday, as authorities defending their handling of the case.
Police said two teenagers surrendered and two were apprehended. Charges were pending against a 14-year-old, 17-year-old and two 15-year-olds. A fifth suspect is still being sought.
Authorities said the woman was accosted just after 9 p.m. Thursday as she and her father walked inside Osborn Playground in the Brownsville section of Brooklyn. Police said one of the five suspects pointed a gun at the father and told him to leave. Each man raped the woman, police said. The father returned with two police officers, but the attackers fled.
The woman was treated at Kings County Hospital and released.
New York City Mayor Bill de Blasio said in a statement released Sunday that he was "disgusted and deeply saddened by the horrific attack… Every New Yorker in every neighborhood deserves to feel safe and protected, and we will not stop until the perpetrators of this disturbing attack are held accountable for their actions."
Brooklyn Borough President Eric Adams echoed the mayor's anger, but also questioned why police waited until Saturday night, 48 hours after the alleged crime, to alert the public by releasing surveillance video investigators said showed the men in a bodega before the alleged incident.
In response, NYPD spokesman Stephen Davis said the commanding officer of the precinct began contacting local community leaders about the alleged rape on Friday. The spokesman also insisted that there was no delay in the initial police response.
"A patrol car from the 73rd Precinct was approached on the street and told about the attack by the victim's father, who directed the officers to the scene," police spokesman Stephen Davis said.
"The police officers immediately responded and located the victim," Davis said. "The suspects had already fled."
http://www.foxnews.com/us/2016/01/11/four-teens-in-custody-after-alleged-group-rape-at-new-york-city-playground.html