Four Israeli Jews wounded by Muslim terrorist in West Bank shooting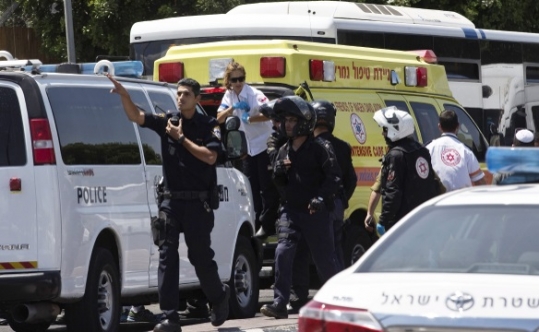 A [Muslim terrorist] opened fire at a group of Israelis near a Jewish settlement in the West Bank on Monday, the Israeli military said, in a …drive-by attack.
A spokesman for Israel's ambulance service Magen David Adom said medics were treating four people in their twenties, one of them badly wounded. A military spokesman said forces were searching the area for suspected [terrorists].
There has been an uptick of violence in the area in recent weeks.
Earlier on Monday, police said [an Arab Muslim] woman stabbed and wounded an Israeli soldier at a crossing between Jerusalem and Bethlehem. On Friday Israeli soldiers shot and killed [Muslim terrorist] in the West Bank after he opened fire on them at a checkpoint.
Earlier this month [an Arab Muslim] stabbed and wounded an Israeli paramilitary policeman outside the walled Old City of Jerusalem. The policeman shot back and wounded him and in the West Bank a [Muslim terrorist] shot at two Israeli hikers and killed one. The assailant escaped.
[Arab Muslim terrorists] this month have fired rockets into Israel from Gaza, drawing Israeli return fire.
http://www.jewishjournal.com/nation/article/four_israelis_wounded_in_suspected_palestinian_west_bank_shooting