Hamas Kids Show Calls Jews 'Barbaric Apes' which Jerusalem 'Vomits'
Hamas's Al-Aqsa television regularly features children's programming that bolsters its hostile message toward Israel.
The trend continued earlier this month when the station invited a young boy to recite a poem that included descriptions of Israelis as "barbaric apes" and "filth" which the holy city of Jerusalem "vomits."
The host of the show, a young girl, asked the boy to give his "message to the enemy."
The boy, identified by the Middle East Media Research Institute as Abd Al-Rahim al-Zarad, dramatically exclaimed, "Oh sons of Zion, Oh the most evil of creatures, Oh barbaric apes, Jerusalem rejects you and vomits your filth."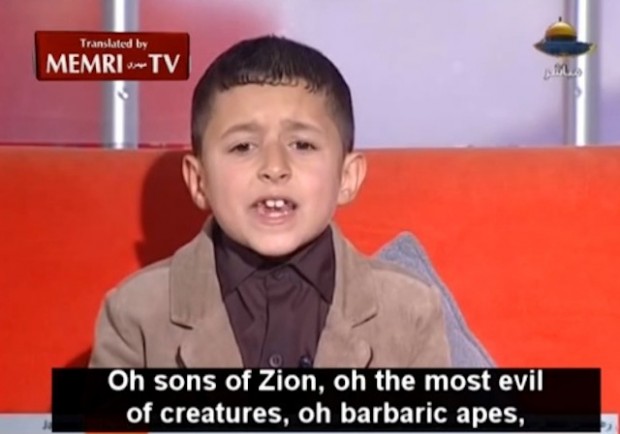 Along with the boy in the studio were three little girls and a giant teddy bear.
A MEMRI translation of his recitation included these lines:
You are nothing but herds of deluded idiots. […]

Jerusalem is my land
Jerusalem is my honor. […]

Oh you slayers of Allah's pious prophets. […]

Humiliation and suffering have been decreed on you.
The poem was called, "I Do Not Fear the Gun."
http://www.theblaze.com/stories/2014/12/21/palestinian-boy-on-hamas-kids-show-calls-israelis-barbaric-apes-and-heres-what-he-said-about-jerusalem/