Hillary Clinton sounding like Sharpton: "Black Lives Matter"
Hillary Clinton insulted the United States claiming the police force is violent and racist against blacks.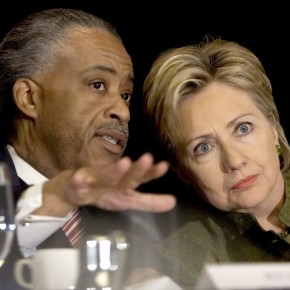 Clinton, a former first lady, New York senator and U.S. Secretary of State, is considering another run for president and is viewed as the likely Democratic nominee if she runs. She was honored at the Kennedy organization's star-studded Ripple of Hope Award ceremony.
Clinton also addressed the recent protests that have raged across the country, and drew links between violence at home and abroad.
She declared, "yes, black lives matter," a mantra of demonstrators around the country who have been protesting recent grand jury decisions not to indict white police officers involved in the deaths of unarmed black men in Ferguson, Missouri, and in New York.
She wondered what Kennedy would say about "the thousands of Americans marching in our streets demanding justice for all," and "the mothers who've lost their sons."
"What would he say to all those who have lost trust in our government and our other institutions, who shudder at images of excessive force, who read reports about torture done in the name of our country, who see too many representatives in Washington quick to protect a big bank from regulation but slow to take action to help working families facing ever greater pressure," Clinton said.
http://www.breitbart.com/big-government/2014/12/17/hillary-clinton-black-lives-matter/