Hillary's VP Pick Tim Kaine Boycotted Netanyahu's Speech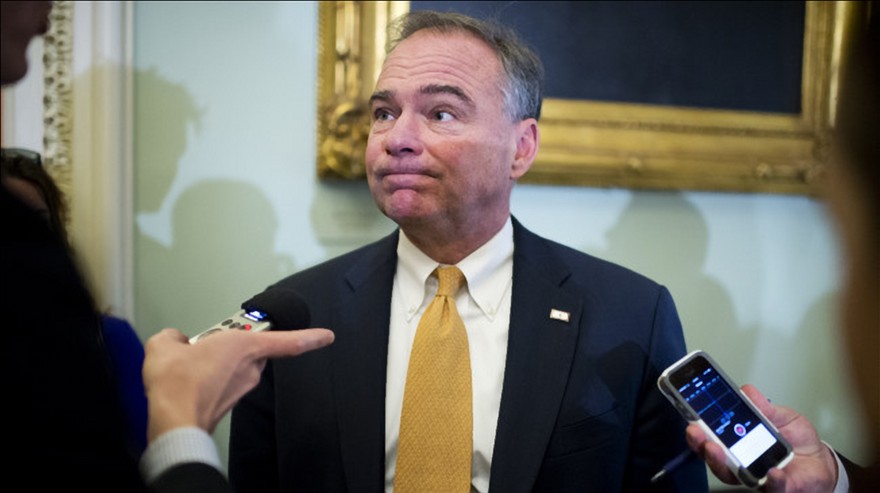 When Hillary Clinton's choice for VP, Virginia Senator Tim Kaine, joined the Democrats who avoided Israeli Prime Minister Benjamin Netanyahu's March 2015 speech to a joint session of Congress, he announced: "There is no reason to schedule this speech before Israeli voters go to the polls on March 17 and choose their own leadership." Revealing that he had labored to delay the Netanyahu appearance, Kaine said, "I am disappointed that, as of now, the speech has not been postponed. For this reason, I will not attend the speech."
Before Kaine made his announcement, only three other senators had planned to boycott the speech: the two [anti-Israel] Vermont Senators Bernie Sanders and Pat Leahy, and Hawaii Senator Brian Schatz. All the other Democratic senators were reluctant to commit either way, and told the press they were thinking about it. Even the biggest Democratic opponent of the Iran deal, New York Senator Chuck Schumer, did not forcefully call on his fellow Democrats to show—not willing to upset an already irate President Obama. Most Democratic legislators who said they'd avoid the speech came from blue states and blue districts. But when Kaine, whose state of Virginia until 2008 voted Republican for president, gave permission to Democrats from red states to boycott Netanyahu when he declared he was skipping the speech.
The Forward on Friday wrote that Kaine "Will be the Jewiest Vice President" under Hillary Clinton, describing him as "a friend to the Jewish community for about as long as he's been in public service." But when one reads the reasons why Kaine is so "Jewey" according to the Forward, one realizes Kaine would be a bonanza to leftwing Israeli Jews, very much like the folks who are currently in the White House.
Kaine supports a "two-state" solution [with terrorists], argues the Forward; also, he is a religious Catholic (so he knows all about the auto-da-fé); during his time as the governor of Virginia, Sabra built the world's largest hummus factory outside Richmond, and hummus is Jewish, isn't it, ask anyone from Cairo to Ramallah to Damascus; and Kaine hosted several Passover seders and played matchmaker to Conservative Rabbi Jack Moline's daughter.
So, in considering Kaine's pros and cons regarding Israel, you have his support for a nuclear deal with Iran, and his support for a [so-called] "Palestinian" state, while on the plus side you have lots of hummus.