Hotel for Michelle Obama's Cambodia visit cost $242,500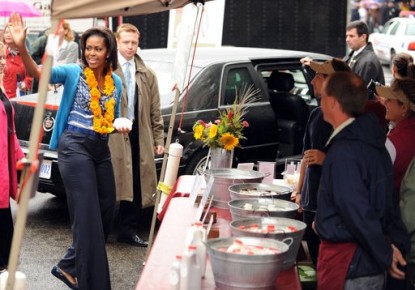 Hotel accommodations for First Lady Michelle Obama's two-day trip to Cambodia required 85 rooms and cost taxpayers $242,500, according to a government contract released Friday.
Mrs. Obama traveled to Siem Reap, Cambodia on March 21 to promote a girls education initiative. A contract was awarded on March 3, citing the "unusual and compelling urgency" of the First Lady's trip.
Mrs. Obama and a delegation of senior high-level U.S. government officials stayed at the Sofitel Angkor Phokeethra Golf and Spa Resort, according to a justification and approval document for the visit.
The trip required 85 single rooms, five office suites, five sleeping suites, and one conference room for 14 nights. Mrs. Obama herself only stayed in Cambodia for two days, leaving on March 22.
The Sofitel Angkor Phokeethra is listed as a luxury five-star hotel.
"The Siem Reap hotel, which elegantly combines Khmer and French architectural design, features landscaped gardens, [five] restaurants and bars, meeting facilities, a luxury spa and the largest free form swimming pool in Cambodia," according to Accor, the French hotel operator that manages the hotel. "The leading luxury resort in Siem Reap also boosts a world-class 18-hole golf course at the Phokeethra Country Club, which is only a 25 [minute] drive from the hotel."
Suites at the Sofitel Angkor Phokeethra come with personal butler service.
http://www.foxnews.com/politics/2015/03/30/hotel-for-michelle-os-cambodia-visit-cost-242500/