Intel expert: New docs confirm Hillary gun-running op in Benghazi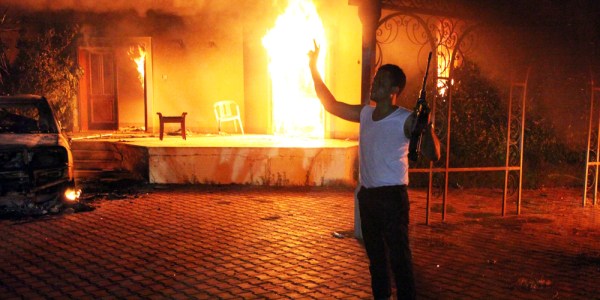 As former Sectary of State Hillary Clinton prepares to testify before the House Select Committee on Benghazi, new documentary evidence of a secret State Department gun-running operation is adding fuel to the controversy over the Department of Justice prosecution of arms dealer Marc Turi.
A member of the independent Citizens Commission on Benghazi claims the publication Tuesday of new evidence that the State Department under Hillary Clinton's leadership approved a California company to deliver arms to Libya with the goal of ousting Moammar Gadhafi exposes the hypocrisy of prosecuting Turi.
Turi believed he also had State Department approval for arranging a similar clandestine arms shipment to Libya in 2011.
Find out what really happened: Aaron Klein's "The REAL Benghazi Story" exposes the ongoing cover-up
"At long last, some of the details about Secretary Clinton's Department of State gun-running operation to the [terrorist] al-Qaida-and-Muslim-Brotherhood-dominated Libyan rebels are beginning to emerge," said Clare Lopez, a member of the Citizens' Commission who served as a career operations officer with the CIA and is currently vice president for research at the Washington-based Center for Security Policy.
"It's long been known that under President Obama and Secretary of State Clinton, the U.S. switched sides in the global war on terror, but the White House successfully concealed much about its agenda to replace secular North African leaders with Muslim Brotherhood regimes – until now," she said.
The Washington Times reported Tuesday that two documents picked up in Benghazi after the Sept. 11, 2012, attack that killed Ambassador Christopher Stevens show diplomats at the compound were tracking several clandestine State Department-authorized shipments of weapons.
One of those shipments was to be delivered to the Transitional National Council, the Libyan movement seeking to oust Gadhafi.