Intl Red Cross Honors Terrorists Who Killed 12 Children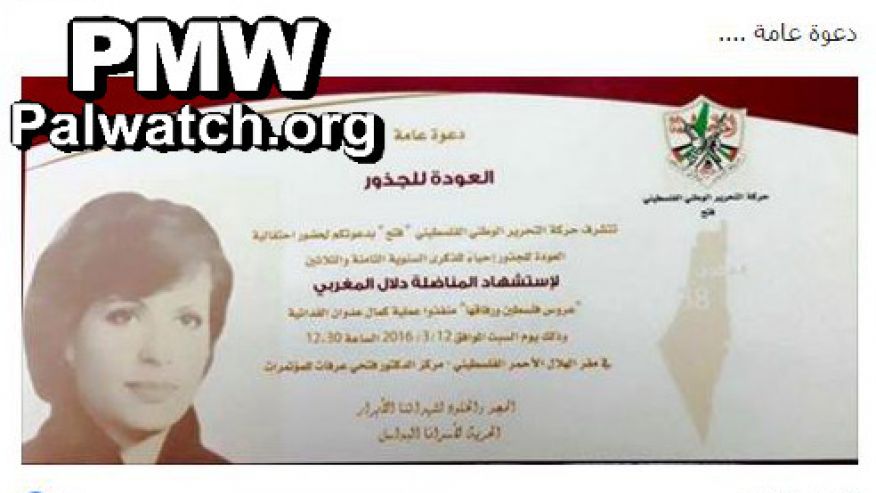 PMW has uncovered yet another atrocity to come out of the [PLO] and,  going one step further, the [so-called] "Palestinian" Red Crescent which officially operates under the International Red Cross.
The Red Crescent along with Farah recently hosted a ceremony honoring terrorists who murdered 37 innocent civilians, including 12 children.
There is no such thing as "Palestine" or a "Palestinian". It is a lie and a propaganda war intended to destroy Israel the Jewish people. Click here for more information.
Somehow we think this should be deemed anathema to the Red Cross' mission.
The ceremony honored Dalal Mughrabi, dubbed the "Bride of Palestine," who carried out one of the most lethal terror attacks in Israel to date. According to PMW, PA Governor of Ramallah, Laila Ghannam, "expressed great pride in Martyr Dalal… and said that the title Sisters of Dalal is an honor to all Palestinian women."
PMW provides details of the attack and translation of the ceremony's invitation:
In the attack in 1978, 37 civilians were killed, including one American. 12 of the victims were children. They were murdered by a group of terrorists led by Dalal Mughrabi who sailed by boat from Lebanon to Israel and then hijacked a bus on Israel's Coastal Highway. When confronted by the Israeli army, the terrorists killed 36 of the passengers and wounded more than 70. The American victim, photographer Gail Rubin, was murdered prior to the hijacking.
The invitation to Fatah's event at the Islamic arm of the Red Cross' headquarters was disseminated on Fatah's Facebook page:
"General invitation Return to the Roots The Fatah Movement is honored to invite you to attend the Return to the Roots ceremony to mark the 38th anniversary of the death as Martyrs (Shahids) of fighter Dalal Mughrabi, 'the Bride of Palestine,' and her comrades who carried out the self-sacrificing operation 'Kamal Adwan' (i.e., terror attack). On Saturday, March 12, 2016, at 12:30 at the Palestinian Red Crescent headquarters – Dr. Fathi Arafat Convention Center. Glory and eternal life to our righteous MartyrsAnd freedom to our heroic prisoners"
The International Committee of the Red Cross (ICRC) officially characterizes itself as "an independent, neutral organization ensuring humanitarian protection and assistance for victims of armed conflict and other situations of violence. It takes action in response to emergencies and at the same time promotes respect for international humanitarian law and its implementation in national law."
We think not.
http://www.truthrevolt.org/news/islamic-arm-intl-red-cross-honors-terrorists-who-killed-12-children