Iran's Supreme Leader: Israel Won't Exist in 25 Years, Our Jihad Won't Relent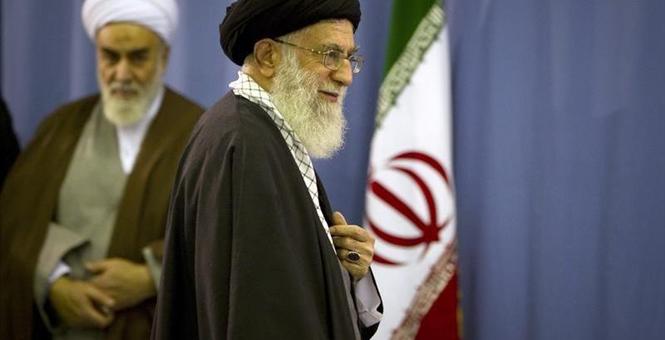 This is the creature who rules the fanatical anti-Semitic, anti-American regime to whom we've offered breathtaking nuclear concessions, and will soon be furnishing with tens of billions of dollars in sanctions relief:
After negotiations, in Zionist regime they said they had no more concern about Iran for next 25 years; I'd say: pic.twitter.com/dBA7oAbFPX

— Khamenei.ir (@khamenei_ir) September 9, 2015
"Iran does not plan to issue permission for the IAEA to inspect every site," Dehqan said in an interview with al-Mayadeen news network on Wednesday. Granting such permissions are even in violation of the IAEA and the Non-Proliferation Treaty (NPT) rules, he added. Dehqan had also earlier underlined that Tehran would not allow any foreigner to discover Iran's defensive and missile capabilities by inspecting the country's military sites. "Missile-related issues have never been on agenda of the nuclear talks and the Islamic system will resolutely implement its programs in this field," Brigadier General Dehqan said in July, commenting on the nuclear agreement recent struck between Iran and the six world powers (the US, Russia, China, France, Britain and Germany). He pointed to the recent statements of the US officials on Iran, and said, "The US officials make boastful remarks and imagine that they can impose anything on the Iranian nation because they lack a proper knowledge of the Iranian nation." The Iranian Defense Minister reiterated that the time had come for the Americans to realize that they were not the world's super power and no one recognizes them as such any longer.
As it stands, the Iranians are inspecting themselves at the Parchin facility, they have the right to challenge proposed inspections over a 24-day review period, and they're claiming blanket authority to flatly deny other inspections to which they object.  Is this what the Obama administration has agreed to?  If so, they're preemptively ceding even more ground to the regime after the deal was finalized. Back in DC, at least one Senate Democrat who supports the accord appears to have broken with Harry Reid on filibustering a final vote, a potentially promising sign if Republicans can ever get their act together.  I'll leave you with the latest development from our new "peace partners," or whatever. Good people:
Feminist cartoonist in Iran may have prison term extended 12 years because she shook her lawyers hand. http://t.co/LzzywqYASf

— Christina H. Sommers (@CHSommers) September 10, 2015
http://townhall.com/tipsheet/guybenson/2015/09/10/irans-supreme-leader-israel-wont-exist-in-25-years-our-jihad-wont-relent-n2049923