Religion of Peace: Islamic State Butchers more Christians in Libya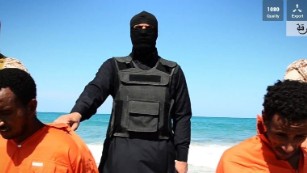 (CNN) – ISIS [terrorists] have beheaded two groups of prisoners, believed to be Ethiopian Christians, in Libya, according to a video released Sunday by the terror network's media arm.
The al-Furqan Media video — which is highly produced and titled "Until There Came to Them Clear Evidence" — shows two groups of men in orange and black jumpsuits being [murdered] at different locations in Libya, according to the video's narrator.
"All praise be to Allah, the Lord and cherisher of the world and may peace and blessings be upon the Prophet Mohammed. To the nation of the cross, we are back again on the sands, where the companions of the Prophet, peace be upon him, have stepped on before, telling you: Muslim blood that was shed under the hands of your religion is not cheap," the narrator says in Arabic on the 30-minute video.
A video released by ISIS claims to show two groups of men being killed in Libya.
The narrator continues, "In fact, their blood is the purest blood because there is a nation behind them (which) inherits revenge. And we swear to Allah: the one who disgraced you by our hands, you will not have safety, even in your dreams, until you embrace Islam."
Quoting Mohammed, the narrator says that those who "perform prayer and pay alms" will have "their blood and property" protected by the Prophet unless Islam dictates otherwise.
"You pay with willing submission, feeling yourselves subdued. Our battle is a battle between faith and blasphemy, between truth and falsehood, until there is no more polytheism — and obedience becomes Allah's on its entirety," the narrator says.