Israel evicts eight Jews from Temple Mount for attempted prayer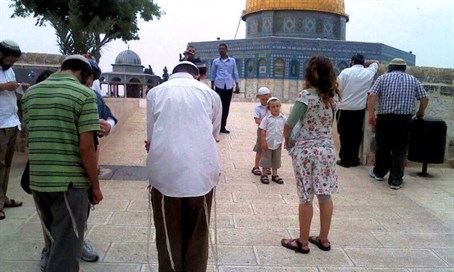 Israeli authorities on Tuesday evicted eight Jewish visitors from the Temple Mount complex in response to what security forces said was inappropriate behavior at the [Jews most] holy site.
As Israeli Jews celebrate Passover, the security services are on high alert as part of an effort to head off any attempts by religious Jews to make overt gestures on Temple Mount that might be construed as worship.
Jews are not permitted to pray at the site, as doing so would offend Islamic religious sensibilities. This arrangement was agreed upon by the Israeli authorities and the waqf – the Islamic trust that oversees the day-to-day operations of the Muslim shrines atop Temple Mount – following Israel's conquest of east Jerusalem in the 1967 Six-Day War.
One day after 13 Jews were removed from Jerusalem's Temple Mount for illegally praying at the contested holy site, the Jordanian government on Monday warned Israel of "serious consequences" if the area's delicate status quo is breached.
… Prime Minister Benjamin Netanyahu has repeatedly and categorically denied the inflammatory accusations, assuring the Muslim world that Israel has no intention of altering the status quo at the contested site, which allows unlimited Muslim prayer and limited Jewish visitation.
On Monday, the Prime Minister's Office issued a brief statement emphasizing that "there is absolutely no basis to these claims," adding that "Israel is behaving responsibly, and Jordan knows that."
Still, former east Jerusalem portfolio head and Meretz City Councilman, Dr. Meir Margalit, warned that Jordan's concerns should be taken seriously, or risk further escalation and violence.
"We have two choices now," said Margalit by phone on Monday afternoon.
"One is to give the Jordanian government some kind of control of what is going on there, or the other choice is to let Hamas take control of the Temple Mount."
"So, let the Israeli government decide what they prefer: either the Islamist Movement or the Jordanian government," he continued. "If the Israeli government has a little bit of sense, they will invite King Abdullah to take some sort of control of the Temple Mount."
Asked if all Jews should be forbidden from visiting Judaism's holiest site to avoid more confrontations with Arabs, Margalit responded that strict limits must only be placed on Jewish radicals.
"Right-wingers who enter for provocation should be forbidden," he said. "I have no problem with Jews or Israelis going there, I have a problem with provocateurs." [that's what they call Jews that pray]
http://www.jpost.com/Arab-Israeli-Conflict/Israel-evicts-eight-Jews-from-Temple-Mount-for-attempted-prayer-452357