Jesse Jackson Praises Mass Murdering Dictator Castro As 'Freedom Fighter'
Former presidential candidate Rev. Jesse Jackson called on Americans to celebrate the life of [communist dictator] Fidel Castro, calling the deceased Cuban dictator a "freedom
fighter

" and "poor people's hero."

In a Saturday evening statement, the civil rights leader urged the nation to join "oppressed people" across the globe in celebration of "the life of a liberator who fought and won against the rich and oligarch rule of [former Cuban President Fulgencio] Batista."

Cuban television announced the death of the 90-year old dictator late Friday evening. Response to the news was dramatic and diverse, triggering tears in [liberal] Ottawa, Canada as well as dancing in the streets of Miami, Florida.

The response from Washington was mixed. A hesitant President Obama offered his condolences to Castro's family while President-elect Trump celebrated the news, describing the deceased as a "brutal dictator."

Jackson was unwavering in his support for the controversial Cuban leader, who is accused of murdering tens of thousands of political dissidents. After trips to Havana and Harlem, the two could even be described as friends.

When Dwight D. Eisenhower was president and three years before the failed Bay of Pigs US-backed invasion, Castro visited the United States. "In 1959," Jackson wrote, "Castro came to New York and stayed in Harlem at the Theresa Hotel and the oppressed in Harlem thanked him for the gesture." Twenty-five years later, Jackson would return the favor.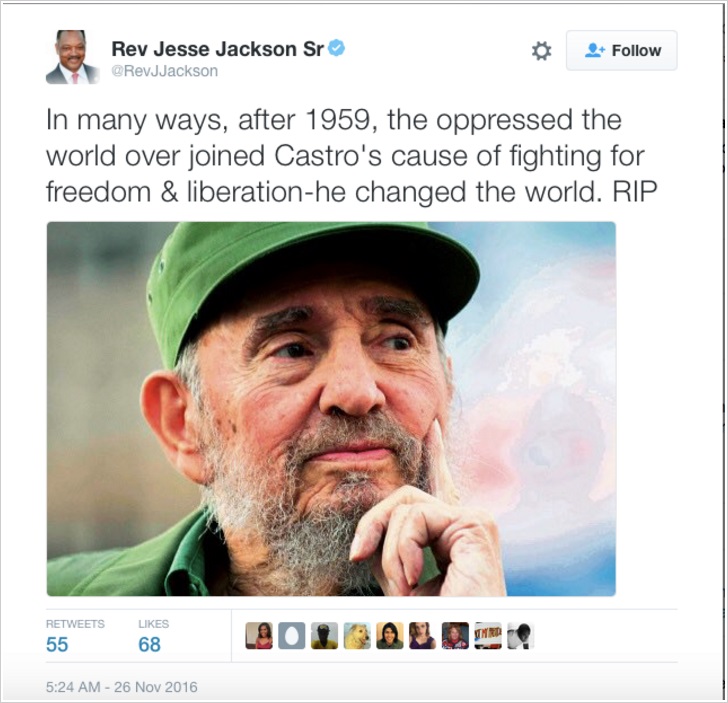 During the Reagan administration, Jackson accepted an invitation from Castro to lecture at the island nation's universities. The Baptist minister recalled that Castro, an atheist, even worshiped with Jackson in Church, "which he attended for the first time in 27 years."
The trip concluded with the release of 48 Cuban and Cuban American prisoners into the United States.
"While we may not agree with all of Castro's actions," Jackson wrote thirty years after that trip, "we can accept his lesson that where there is oppression there must be resistance."
http://www.washingtonexaminer.com/jesse-jackson-celebrates-castro-a-freedom-fighter-and-poor-peoples-hero/article/2608221
http://www.weaselzippers.us/309776-jesse-jackson-praises-castro-as-freedom-fighter/