Jews afraid to bury kin at Mount of Olives
The current regime will do nothing to protect the Jews from the Arab Nazi mass murderers. They are full of broken promises and made it illegal for Jews to pray on the Temple Mount. The only thing that will work is to throw the enemy out of Israel.
---
[Ynet] – Heightened tensions in Jerusalem [from Arab Muslim Nazis] causes concern about interment in ancient cemetery; organization seeks president's help.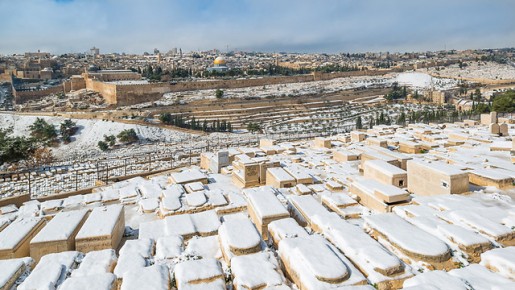 Mount of Olives Cemetery in Jerusalem is one of the most ancient Jewish burial grounds in the world, not far from the Temple Mount, but recently some Jews have not wanted to bury relatives there.
The security situation, [Muslim Arab Nazi] vandalism, and stone throwing along the routes leading to the mountain have contributed to the decline. Leaders from the "Chevra Kadisha" organization in Jerusalem met with President Reuven Rivlin, whose parents are both buried at the Mount of Olives, and requested his help to encourage the public to return to the mountain.
The cemetery has been estimated to contain between 70,000-100,000 graves from various eras, including luminaries such as Nahmanides, Yoel Moshe Salomon, Menachem Begin, Eliezer Ben Yehuda and his son Itamar Ben-Avi, "Olei Hagardom" Meir Feinstein and Moshe Barazani, Rabbi Abraham Isaac Kook, Rabbi Shlomo Goren, the poet Zelda, and others.
"The absurd thing is that if a Jerusalem resident dies, he'll be buried somewhere else," said Rabbi Yitzhak Gelbstein, head of the Kadisha organization. "If he wants a proper funeral, the only place he can be buried – and for free – is the Mount of Olives. But because of the security situation, people are afraid, because families don't want to get close to the Mount of Olives."