The sensational offer to free the suicide

bomber

, whose device failed to explode, illustrates the tremendous pressure that Jordan's King Abdullah II and his government have faced over the pilot's capture in Syria last month.An exchange of prisoners would be a first for the Islamic State, which has beheaded a number of captives including U.S. and other Western journalists and aid workers. Previously, the group had reportedly released European captives in exchange for ransom.The offer could undermine the U.S.-led coalition fighting the Islamic State by encouraging more hostage-taking. The Islamic State, also known as ISIS or ISIL, has seized large swaths of territory in Iraq and Syria.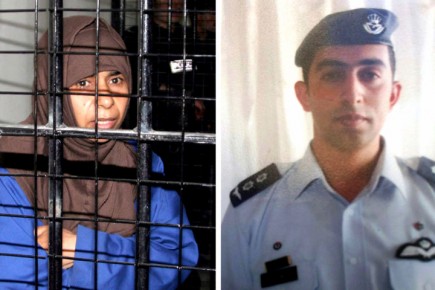 Information Minister Mohammad al-Momani said in a statement Wednesday that Jordan was ready to release prisoner Sajida al-Rishawi, who is Iraqi, if the pilot, Lt. Muath al-Kaseasbeh, was released unharmed. His plane crashed in Syria during a bombing run.

Momani did not offer details and did not say whether the government was talking directly with Islamic State leaders or whether the swap had been scheduled.

Jordanian Foreign Minister Nasser S. Judeh tweeted later Wednesday: "We asked for evidence about the health and safety of our hero but it did not come."

According to a Jordanian National Police official, authorities earlier Wednesday transferred Rishawi from her cell in the Juweideh prison in southern Amman to an "undisclosed location" pending her potential release. The official spoke on the condition of anonymity because he was not authorized to give statements to the press.

http://www.washingtonpost.com/world/middle_east/jordan-prepared-to-swap-terrorist-convict-for-pilot-captured-by-islamic-state/2015/01/28/640e4a5e-a6f8-11e4-a162-121d06ca77f1_story.html
Jordan said Wednesday that it was prepared to swap a prisoner sentenced to death for her role in a string of 2005 Amman hotel bombings for a Jordanian pilot who was captured by Islamic State [terrorists].