Judge Rules Donald's Trump University Scam Case Going to Trial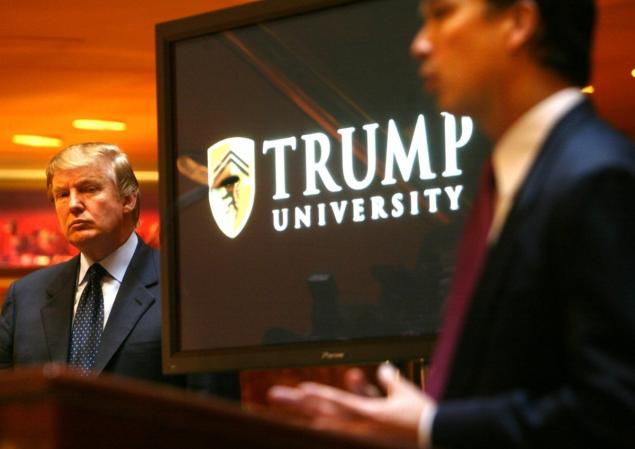 Donald Trump may have swept the Republican primaries in five states last night, but Tuesday wasn't all good news for the real estate mogul. A New York judge ruled that a fraud case against the businessman over Trump University will go to trial.
New York County Supreme Court Judge Cynthia Kern made the decision at a hearing Tuesday, though it remains unclear whether the case will be weighed at a jury trial – which is what Trump's team is seeking. Trump attorney Jeffrey Goldman said it's possible the trial could be held this fall, and Trump could testify.

In the case, New York Attorney General Eric Schneiderman, a Democrat, has accused Trump and others of misleading thousands of students over the school.

Schneiderman alleges that Trump University was unlicensed since it began operating in 2005 and promised lessons with real estate experts hand-picked by Trump, only one of whom had ever met him. The attorney general said the school used "bait-and-switch" tactics, inducing students to enroll in increasingly expensive seminars. […]

Schneiderman had sued Trump and the school, which changed its name to the Trump Entrepreneur Initiative before it closed in 2010, for $40 million. The lawsuit seeks restitution and damages for more than 5,000 students nationwide, including 600 New Yorkers, who paid up to $35,000 each.
The trial could come as early as fall, said Trump's lawyer Jeffrey Goldman. If this is the case, Trump could be forced to testify in the middle of campaign season.
The businessman has insisted Trump University was a "terrific" school with high approval ratings.
"Let's see what happens in court. This is a civil case, very easy to have settled, could settle it now, very easy to have settled. … Let's see what happens at the end of a couple years when this case is over," Trump said during a debate in March.
http://townhall.com/tipsheet/leahbarkoukis/2016/04/27/trump-university-case-going-to-trial-n2154141