Likud claims their version of Israeli "security" is "holy" after caving to terrorism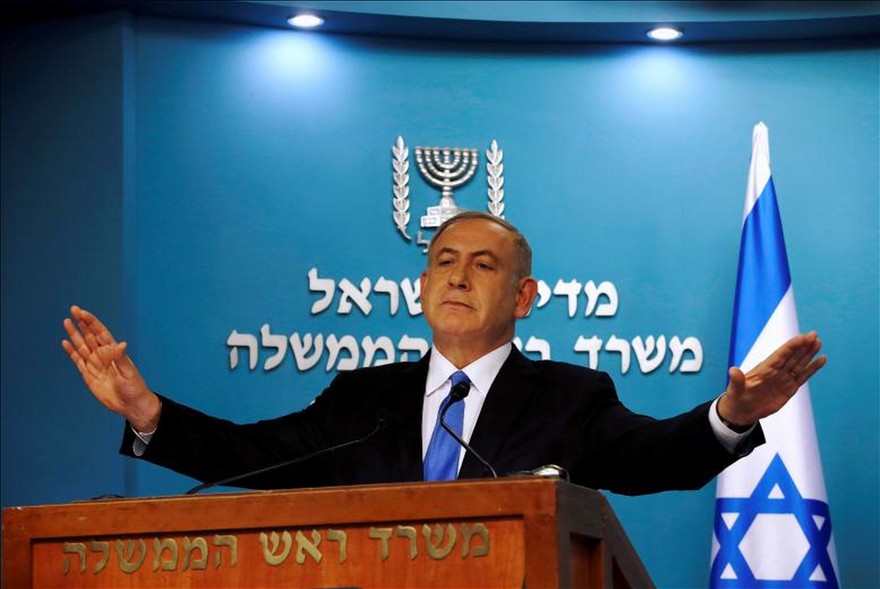 "Israeli security is holy and it is endangered more than anything by those who childishly and irresponsibly use it as a platform for tweeting."
You just can't get any lower than to claim G-d is making you
throw Jews out of their homes for being Jewish,
releasing mass-murdering jihad terrorists in "swap" deals that immediately murder more Jews,
allowing Arabs that support Muslim terrorists into the government,
making it illegal for Jews to pray on the Temple Mount which is the holiest site in Judaism,
caving to terrorism and removing all security cameras and metal detectors from the Temple Mount that were meant to protect Jews,
and now making "deals" to try and give part of the land of Israel to Muslim terrorists.
That's what he calls "holy"? Please… spare us.
Naftali Bennett, another phony that claimed that 99% of the Arab Muslims are "loyal" to Israel, stated the facts that Netanyahu caved into terrorism when he removed all security cameras and metal detectors from the Temple Mount where it's a regular occurrence to find knives, bombs, and weapons stashed by Muslim terrorists who want to kill Jews.
There was a Channel 2 poll that found 77% of Israelis feel the removal of the metal detectors from Har Habayit (Temple Mount) represents surrender.
So what does Netanyahu do? Tries to make a "deal" to pull in a few settlements if Israel caves even further and gives the Arab Muslims parts of Israel. NEVER make a deal with terrorists. It just tells them that their violence works and it makes it worse exactly like this:
Roughly 100 people were injured in the Old City of Jerusalem Thursday, shortly after Muslim worshippers returned to the Temple Mount following a nearly two-week ban by Muslim authorities on prayer at the holy site.

Riots broke out within minutes as thousands of Muslims flooded the Temple Mount, attacking police officers who responded with crowd-control measures including tear gas, shock grenades, and rubber bullets.
What was the cowardly response? Get ready for it…
The Likud struck back on Friday at Bayit Yehudi leader Naftali Bennett for criticizing Prime Minister Benjamin Netanyahu's support for relinquishing Arab areas of pre-1967 Israel in return for annexing settlement blocs.

Bayit Yehudi released a statement late Thursday saying that the plan would cause grave harm to Israeli security. The party said in the statement that Netanyahu should stop surrendering and giving prizes to terror.

The Likud responded that what really harms Israeli security is "people who sit in the security cabinet and are guided not by what is good for the citizens of Israel but their own personal good and the headlines they leak from the closed-door forum."

A statement released by Netanyahu's party pointed out that Bennett voted to remove metal detectors on the Temple Mount and "pompously declared that he supported the prime minister but then did not last a minute and a half under pressure from the press and the public."

"Israeli security should not be subjected to populism and political spin," the Likud statement said. "Israeli security is holy and it is endangered more than anything by those who childishly and irresponsibly use it as a platform for tweeting."

Bayit Yehudi minister Ayelet Shaked responded that "surrendering is not appreciated in the Middle East."
They are all phonies and innocent Jewish people are dying because of these clowns. These are the same people that release mass-murdering terrorists from prison but refuse to let Chaim Ben Pesach into Israel.
That's the opposite of holy. That's pure evil.