More Arab Muslim Riots at Jerusalem Holy Site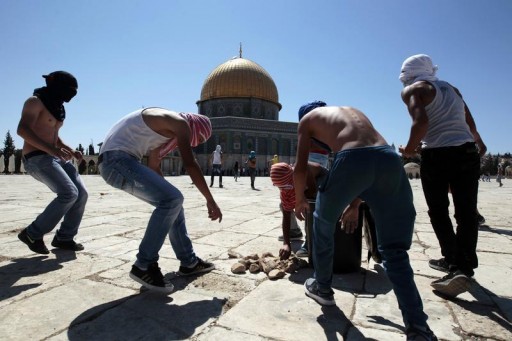 JERUSALEM (AP) — Israeli riot police briefly clashed with [Arab Muslim rioters] at Jerusalem's most sensitive holy site early Sunday, raising tensions ahead of a major Jewish holiday. No injuries or arrests were reported.
The clashes occurred at a hilltop compound in Jerusalem's Old City that is revered by Jews… The site is a frequent flashpoint of violence, and Israel has beefed up security around the area following several rounds of clashes in recent weeks.
In Sunday's incident, police said a small group of masked [Arab Muslims] threw stones and firecrackers at Israeli police gathered at a main entrance point to the compound. Police, many of them holding riot shields, responded with stun grenades and the crowd was quickly dispersed.
The unrest occurred hours before the beginning of Sukkot, a weeklong festival that celebrates the fall harvest and commemorates the wandering of the ancient Israelites through the desert following the exodus from Egypt.
In ancient times, Jews made pilgrimages to Jerusalem on Sukkot, and many Jews are expected to visit the city throughout the holiday period, raising the risk of further [violence from Arab Muslims].
http://www.usatoday.com/story/news/world/2015/09/27/new-clashes-jerusalem-holy-site/72923042/