Muslim terrorists butcher 37 at holiday destination of Sousse at Tunisian beach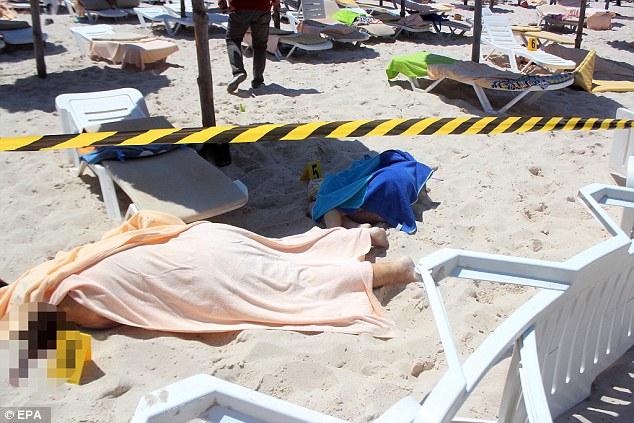 A 16-year-old British boy saw his parents and grandmother slaughtered by Muslim terrorists who opened fire on European sunbathers on a beach in Tunisia.
His relatives were among at least 37 to be killed during the horrific attack on two hotels in Sousse, while another 36 have been injured.
The boy is being treated for his injuries in hospital, according to a report by a Tunisian radio station.
Another Briton, Matthew James, 30, from Cardiff, is fighting for his life after being shot four times in the stomach, his father-in law William Wilson told MailOnline.
Olivia Leathley, a chef from Manchester, said she spoke to Mr James's wife, Saera, who said there was blood everywhere and told how she saw her husband's eyes roll to the back of his head.
Staff at the Clinic Les Oliviers in Sousse where many of the injured have been taken said they were treating 13 British nationals.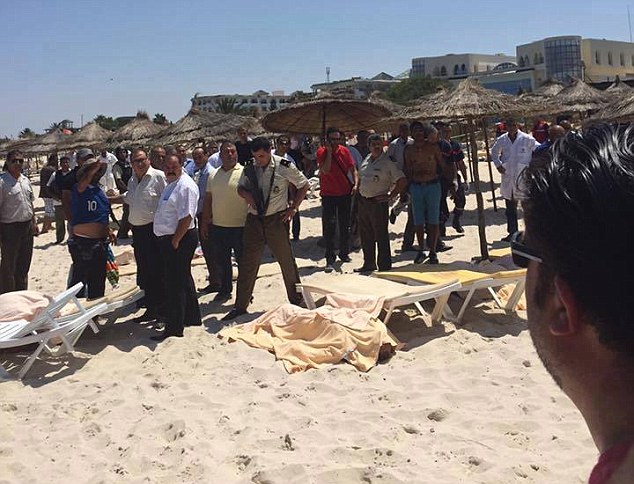 Mrs James was then pulled off the beach by hotel staff and later accompanied her husband to hospital.
Miss Leathley said she and her boyfriend, Mike Jones, did not go to the beach as planned as she was charging her phone so she could read a new audio book.
Having investigated the sound of gunshots at her hotel, she and her boyfriend went downstairs.
She told MailOnline: 'We then heard a shot from inside the hotel. Somebody just shouted 'run!' so we sprinted off in all directions.
'The machine gun fire was so close, it sounded like it was right behind us… I was then on the phone to my dad, Glenn, screaming at the top of my lungs and telling him "I love you, I love you".
'My dad was saying 'I love you' and shouting prayers down the phone, begging 'Lord, protect them'.
'We eventually found an office building and hid in a room. As soon as I got somewhere safe, I threw up.'
Other victims who died included an Irish woman, Tunisians, Germans and Belgians.
The massacre in Tunisia took place at about the same time as the bombing of a Shi'ite mosque in Kuwait, where 25 worshippers were killed, and another attack on a United States-owned factory in France in which someone was beheaded.
[Daily Mail]