Netanyahu Greeted with Anti-Semitic Hitler Posters on Argentina Visit
Why is Netanyahu even visiting that Jew-hating country? Does he have any respect for himself or the Jewish people?
In anticipation of Prime Minister Benjamin Netanyahu's historic visit to Argentina Monday, anti-Semitic protestors uniform in Buenos Aries hung posters showing him wearing a Nazi uniform and sporting a Hitler-style haircut. dressed in a Nazi prior to the Israeli leader's arrival in Argentina later in the day, the World Zionist Organization reported. The Hitler poster reads "Zionists Get out of Palestine. Another poster is a "wanted" picture of Netanyahu declaring he was "wanted for human rights crimes and genocide against the Palestinian people."
World Zionist Organization Deputy Chairman and Head of Countering Global Anti-Semitism, Yaakov Haguel, said in a statement, "It is a very serious matter to hang signs promoting anti-Semitism and hatred against Israel on such an historic day." He vowed that "the WZO will continue to fight this scourge."
The history of the Jews in Argentina goes back to the early sixteenth centuries, following the Jewish expulsion from Spain.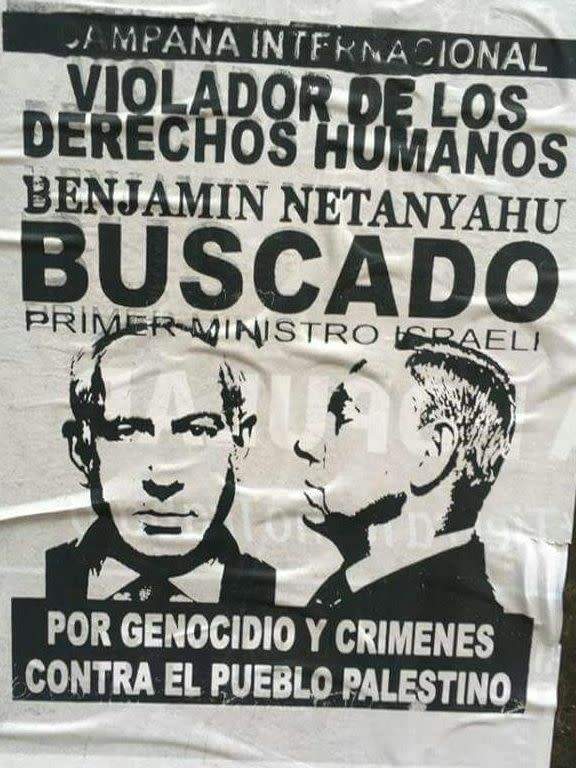 A 2011 poll commissioned by the Anti-Defamation League showed that a majority of Argentines held anti-Semitic views. Of the 1,510 Argentines surveyed, 82% agreed with statements that "Jews are preoccupied with making money," 49% said that they "talk too much about what happened to them in the Holocaust," 68% said they have "too much power in the business world," and 22% said that the Jews killed Jesus. The majority of people interviewed also expressed the belief that Jews are more loyal to Israel than their country of birth. In recent years, a number of anti-Semitic incidents have been recorded in Argentina.
https://is.gd/iBU4Uz