Netanyahu to Putin: Let's not talk about Amona expulsion – "Let's talk about something serious"
Netanyahu breaks his promise (as he ALWAYS does to the Jews he expels) leaving 42 families of Amona homeless. Tells Putin that issues in Syria are more important and calls Russia a "partner".
Prime Minister Binyamin Netanyahu was apparently unwilling to discuss some key domestic issues during a meeting Thursday with Russian President Vladimir Putin at the Kremlin.
After opening statements at a press conference, the two leaders met for a closed-door meeting, during which the subject of Amona and the brewing coalition crisis with the Jewish Home were raised.
The Jewish Home, which has demanded the Prime Minister fulfill his promise to build a replacement town in Samaria for the 42 families evicted from Amona in February, threatened Wednesday to vote against a media regulation bill pushed by Netanyahu should he fail to uphold his pledge.
But when the issue was raised by Putin, Netanyahu sought to change the subject.
"I came today to talk about important issues and events in Syria," Netanyahu reportedly said. "Let's talk about something serious."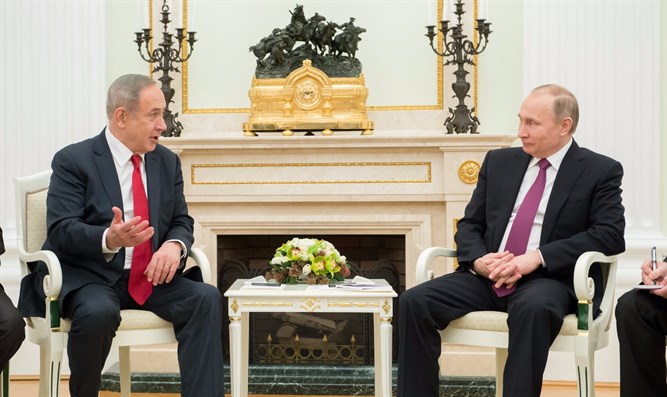 Prior to the meeting, Netanyahu called Russia a "partner" in the fight against Islamic terror, but warned that Shi'ite Islamic terrorism (i.e. Iran) was just as much a danger as Sunni groups like ISIS and Al-Qaeda.