Netanyahu's Wife Will Be Indicted for Misuse of Funds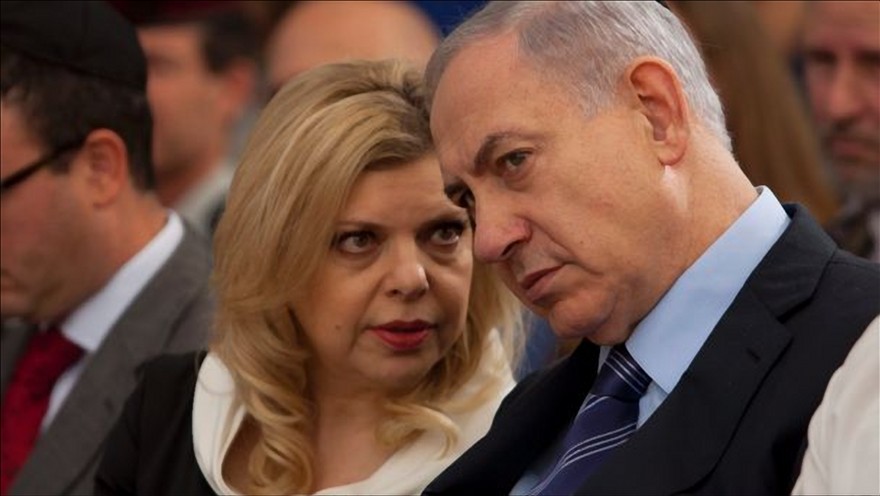 Israel's attorney general is poised to indict the wife of prime minister Benjamin Netanyahu for misuse of state funds, according to media outlets.
An announcement is expected sometime this week that Sara Netanyahu will be indicted for billing the government for personal expenses, Haaretz reported, citing a TV station.
The investigation of Sara Netanyahu has been ongoing for more than two years, beginning when State Comptroller Joseph Shapira issued a report about excessive spending at the Netanyahus' official residence, according to Haaretz.
According to The Jerusalem Post, Sara Netanyahu is believed to have used hundreds of thousands of shekels of state funds for private housekeeping costs.
According to the Post, the four felonies she is suspected of include
Using state funds to pay an electrician to work on their private house during weekends and high holy days, when fees run higher, in violation of policy.
Using state funds to pay her father's medical expenses.
Using state funds to buy garden furniture for the Prime Minister's Residence, then moving it to the Netanyahu private residence in Caesarea.
Claiming larger meal expenses at the Prime Minister's Residence than were warranted.
"If the reports are correct, we are talking about ridiculous allegations," Sara Netanyahu's attorney Yossi Cohen said. "How far will the persecution of the Netanyahu family go? Until the cup of tea that an employee of the residence gave Mrs. Netanyahu's 97-year-old father on his deathbed while he lived there"
TV station Channel 10 reported that 11,000 shekels worth of food was ordered sent to the Prime Minister's Residence, though receipts claim it was meant for the Prime Minister's Office. Food is not supposed to be sent to the residence, the station reported, because the residence has a chef.
The Netanyahu family issued a response denying the claims.
"Yair Netanyahu [the eldest son] is vegetarian, Avner [the younger son] and Mrs. Netanyahu almost never eat meat, and the prime minister does not consume food worth thousands of shekels from a steak house," according the response. "It would be interesting to find out the housekeeper's part in these orders from 2011."
Sara Netanyahu is not the only member of the family facing controversy. The prime minister himself is under investigation in two separate graft cases.
Netanyahu's former chief of staff Ari Harow late last week signed a deal to turn state's witness against his former boss, The New York Times reports.
An indictment apparently would not force Netanyahu to resign, however, nor would a conviction. Still, a bribery charge would likely be difficult to weather politically, the Times noted.
Though not suspected of any criminal activity himself, the couple's 25-year-old son, Yair, has also been the focus of negative publicity, reportedly making an obscene gesture at a woman who told him to pick up after his dog and responding to a report on his living with his parents at taxpayer expense by saying no such coverage of the children of other prime ministers was so harsh.
He then made accusations against the son of former Prime Minister Ehud Olmert.
https://www.newsmax.com/Newsfront/netanyahu-indictment-funds-misuse/2017/08/07/id/806300/