Netiv Avot Jewish Residents Gather to Protest Impending Demolition of Their Homes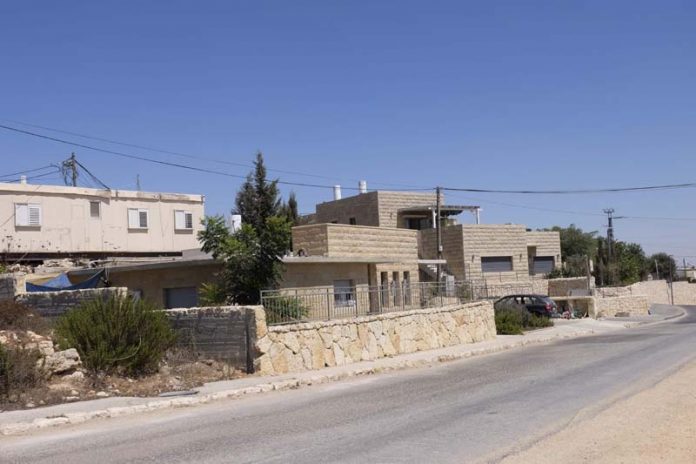 Residents of the tiny neighborhood of Netiv Avot, adjacent to the town of Elazar in Gush Etzion, south of Jerusalem, gathered Sunday evening with Education Minister and party chairman Naftali Bennett of Bayit Yehudi to protest the impending demolition of their homes due to an order by Israel's Supreme Court.
"Bring all of your determination, work to save Netiv Avot," Bennett said, "and we'll stand with you the entire way. Just make sure that this place is not destroyed."
Bennett acknowledged, however, that his party could not actually guarantee that the government would not demolish the neighborhood.
"I cannot promise something beyond my power to deliver," he admitted. "But we'll do everything we can to protect this community."
The Court has ordered the state to expel the residents of all 17 buildings at the site and to demolish all the buildings because they were built without permits. Some were [claimed to be] located on land claimed by [Arab Muslims].
Other government leaders who appeared at the event were Housing and Construction Minister Yoav Galant (Kulanu), Regional Cooperation Minister Tzachi HaNegbi (Likud), MK Shuli Mualem (Bayit Yehudi), and Likud MKs Oron Hazan and Sharen Haskel.
Two of the buildings are to be razed to the ground by the end of this calendar year; the other 15 are to be demolished by March 2018.
But those representing the residents of the six homes allegedly resting on disputed property have offered to remove the sections on the "wrong" side of the property line — an offer agreed to by the government, but rejected by the court.
Instead, the court ruled that all 17 buildings — the entire neighborhood — must be destroyed.
https://is.gd/zxSmMB