Pew Poll: 80% of Americans Do Not Support Nuclear Iran Deal
Support for Iran Nuke Deal Falls to 21 Percent.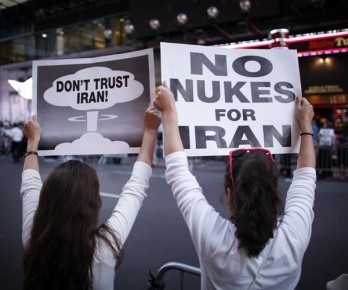 Only one-fifth of Americans approve of the Iran nuclear deal, down 12 percent from two months ago, according to a new Pew Research Center poll.
Only 21 percent favor the deal about to be taken up by Congress, according to the latest numbers. Forty-nine percent oppose it, and 30 percent have no opinion.
In July, 33 percent supported the deal brokered by the Obama administration and 45 percent opposed it.
The partisan divide remains, with Republicans strongly opposing it, and almost half of Democrats favoring. But support has waned across the board.
Currently, 42 percent of Democrats say they approve of the agreement, with 29 percent disapproving. In July, 50 percent of Democrats approved and 27 percent disapproved.
Republicans now approve by only 6 percent, down from 13 percent in July. Seventy-eight percent of Republicans disapprove, up from 69 percent.
Independents support the deal only by 20 percent, down from 31 percent. Forty-seven percent of independents disapprove. That number has remained steady.
The poll was conducted Sept. 3-7 among 1,004 adults. The overall sample has a margin of error of plus-or-minus 3.6 percent.
Though Republicans in Congress have enough votes to defeat the deal, they don't have enough votes to override President Barack Obama's promised veto.
http://www.newsmax.com/Newsfront/Per-Research-poll-Iran-nuclear/2015/09/08/id/678649/