PM Netanyahu Backs DM Ya'alon Regarding Eviction of Jews in Hebron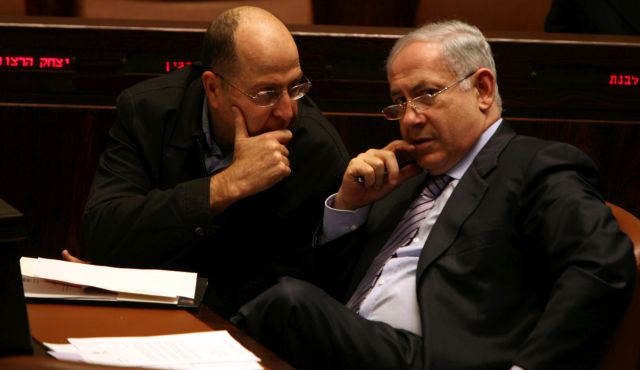 While there is outrage among Hebron residents and supporters following the erev Shabbos eviction of residents of the newly-acquired buildings in the community, Prime Minister Binyamin Netanyahu has given his total backing to Defense Minister Moshe Ya'alon, who ordered the eviction.
While Hebron community leaders insist the building was legally purchased as a cost of hundreds of thousands of dollars, the Prime Minister and Defense Minister Moshe Ya'alon insist the legality of the purchase and transfer of ownership "have not yet been settled". Mr. Netanyahu added that while he supports continued settlement, he added "we all must respect the law" and in this case he explained, the Jewish community did not obtain all the necessary permits to permit their entry into the building.
Security forces moved in on erev Shabbos 12 Shevat and removed about 200 residents who moved into the two buildings that were recently purchased.
Deputy Minister (Likud) Ayoub Kara, MK (Likud) Oren Hazan and MK (Bayit Yehudi) Betzalel Smotrich have announced that until such time the Jews are permitted to return to the buildings which have been acquired legally, they will not follow coalition discipline and this will be evident in Knesset votes. In addition, there is mounting pressure on Bayit Yehudi leader Minister Naftali Bennett, calling on him to abstain from participating in any and all votes in the coalition until the Jews are permitted to return to the buildings.
Absorption Minister Ze'ev Elkin condemned the eviction, calling for an urgent meeting of the Security Cabinet to discuss the eviction.
Despite the mounting pressure from coalition partners, Defense Minister Moshe Ya'alon insists he is simply enforcing the law, nothing more. He explains the persons evicted failed to obtain the necessary permits to enter the structures in question.
In an effort to allay fears among right-wing politicians, the Prime Minister at the start of the weekly cabinet meeting on Sunday, 14 Shevat, added that once all of the paperwork is in order, he will permit the evicted persons to return to the newly-acquired building. Mr. Netanyahu stated, "The government supports settlement at any time, especially now when it is under terrorist assault and is taking a courageous and determined stand in the face of terrorist attacks. With the same breath, we are a nation of law and we must respect the law. As soon as the procedures regarding the purchase are approved, we will allow the two homes in Hebron to be populated, as indeed occurred in similar instances in the past. The process of checking is starting today; we will do it as quickly as possible. If, in any case, it is not completed within a week, I will see to it that the cabinet receives a status report".
http://www.theyeshivaworld.com/news/headlines-breaking-stories/378856/pm-netanyahu-backs-dm-yaalon-regarding-eviction-of-hebron-residents.html