Pure Anti-Semitism: Obama Blames Israel For Arab Muslim Terrorism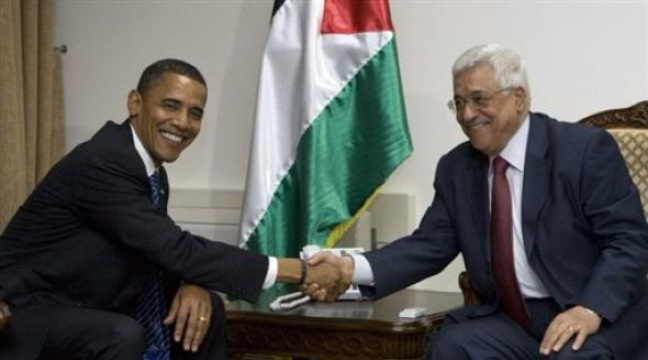 US President Barack Obama said Friday that both Prime Minister Benyamin Netanyahu and PLO-Fatah terrorist leader Mahmoud Abbas are responsible for rhetoric stoking a wave of violence between their peoples.
"We condemn in the strongest possible terms violence directed against innocent people and believe Israel has a right to maintain basic law and order," Obama said, in his first comments on the crisis. "We're very concerned about the outbreak of violence."
"We also believe that it's important for both Prime Minister Netanyahu and Israeli elected officials and President Abbas and other people in positions of power to try to tamp down rhetoric that may feed violence or anger or misunderstanding, and try to get all people in Israel and in the West Bank to recognize that this kind of random violence isn't going to result in anything other than more hardship and more insecurity."
… He rejected criticism of his secretary of state, John Kerry, for comments he made at Harvard University earlier in the week that suggested a linkage between Israel's settlement activity in the West Bank and the current terrorism wave.
"What's happening is that, unless we get going, a two-state solution could conceivably be stolen from everybody," Kerry said. "And there's been a massive increase in settlements over the course of the last years, and now you have this violence because there's a frustration that is growing."
Responding to a query on the matter, Obama said reports on the quote mischaracterized the secretary's words.
"I don't think that's what Secretary Kerry said," Obama argued. What Kerry meant, the president said, is that the current atmosphere among Israelis and Palestinians "creates the potential for more misunderstanding and triggers, and that's something that has been true now for decades."
"There's not a direct causation here," he added.
Kerry is to meet with Netanyahu in Germany next week to discuss the crisis, State Department officials confirmed on Friday.
http://www.jpost.com/Israel-News/Politics-And-Diplomacy/Responsibility-for-incitement-falls-on-both-Netanyahu-and-Abbas-Obama-says-426197