Putin: Russia Ready to Help "Palestine" Become Reality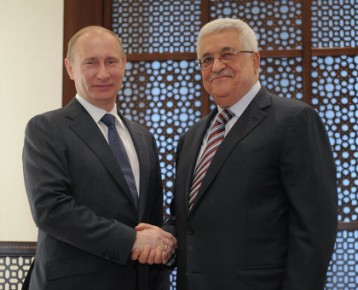 Russia plans to continue helping [Arab Muslims in Israel] achieve their goal of establishing an independent [terrorist] state in Judea and Samaria, President Vladimir Putin announced Saturday.
He also highlighted the [so-called] "Palestinian's right" to the eastern part of Jerusalem as its capital, Sputnik International reported.
Putin made the address to participants at the 26th Arab League Summit in Egyptian Red Sea resort Sharm el-Sheikh.
"Palestinians have the right to establish an independent and habitable state with a capital in East Jerusalem," the Russian President argued.
"Russia will continue contributing to the attainment of this goal [Arab Muslim terrorists taking over Israel], working through bilateral channels and through multilateral channels, including in the 'Quartet' of international mediators," Putin added.
The Middle East Quartet consists of Russia, the United States, the United Nations, and the European Union. It was established in Spain in 2002, with the goal of reaching a lasting peace agreement between Israel and the Palestinians.
On Saturday, Putin stressed the need for closer collaboration between this Quartet and the Arab League, noting Moscow's willingness for further cooperation.
He also advanced his position that problems in the Arab world be solved peacefully and without foreign military intervention.