Rabbi Kahane's Grandson on Hunger Strike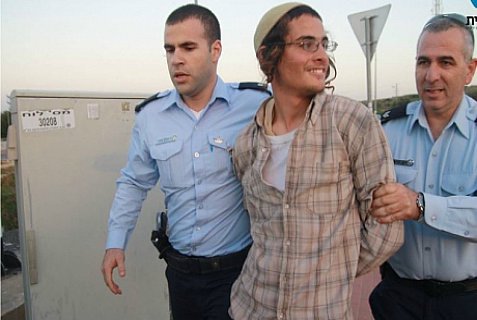 The Grandson of Rabbi Meir Kahane, Meir Ettinger, 24, who has been in administrative detention—an old British Mandate regulation which is being employed by Israeli courts to incarcerate security risks whose alleged crimes cannot be proven—since August, began a hunger strike last Tuesday. The strike is in protest of his prison conditions.
Ettinger's arrest, carried out without an indictment and without any proof of guilt, was authorized by Defense Minister Moshe Ya'alon. Ettinger and fellow administrative detainee Evyatar Slonim were transferred to the security wing of Eshel prison near Be'er Sheva in early October.
Activist Mordechai Meir, arrested a week before them, was not moved, due to a court order preventing his transfer. Three weeks ago Meir (a.k.a. Mordechai Ben Gedaliah) was released after the Shabak announced his arrest had been a mistake.
"He is being threatened for several days by [so-called] Palestinian prisoners," Ettinger's attorney, Sima Kochav, complained back in October. "Among the threats and messages passed to him: 'We killed two Kahanes, we will kill you, too,' 'Kahane is a pig,' 'We won't let you live,' 'We'll blow your head off' and more, and more."
Rabbi Meir Kahane was murdered in 1990 in NY City by an Arab assassin. Ettinger's uncle, Benjamin Kahane, was killed with his wife Talya in a shooting attack near the settlement of Ofra.
http://www.jewishpress.com/news/kahanes-grandson-on-hunger-strike/2016/01/21/