Report: Anti-Semitic incidents surge 86% in U.S. in 2017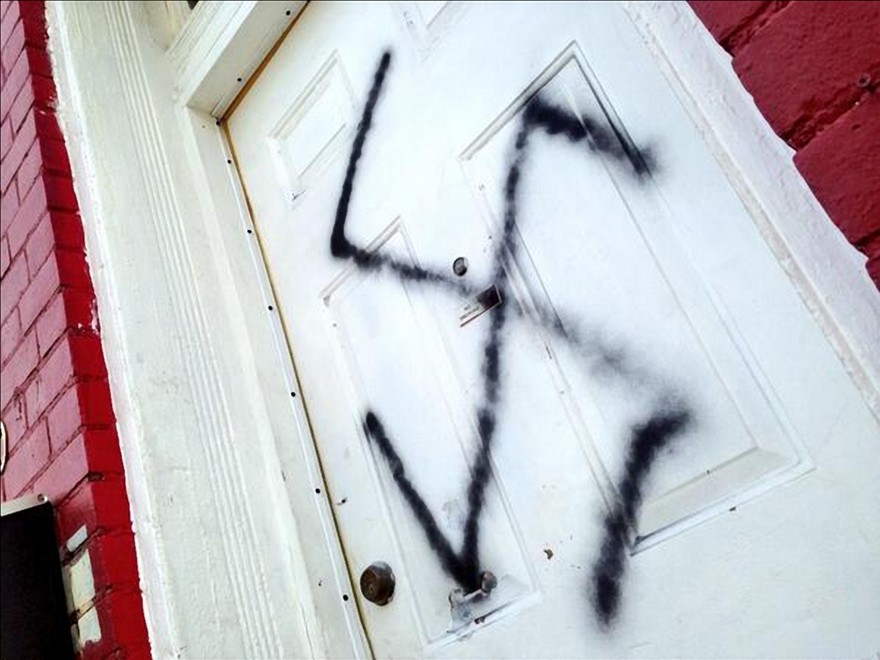 Anti-Semitic incidents in the United States saw a massive spike of 86 percent in the first quarter of 2017, according to new data compiled by the Anti-Defamation League.
The jump in incidents comes after a 34% increase in 2016 from the previous year.
"There's been a significant, sustained increase in anti-Semitic activity since the start of 2016 and what's most concerning is the fact that the numbers have accelerated over the past five months," the group's CEO Jonathan Greenblatt said in a statement.
The Jewish civil rights group's annual Audit of Anti-Semitic Incidents found 541 reported anti-Semitic incidents in the first four months of the current year, including 380 episodes of harassment, 161 bomb threats to Jewish institutions and 155 cases of anti-Jewish vandalism.
Last month, an 18-year-old Israeli hacker from Ashkelon was arrested on suspicion of carrying out many of the bomb threats, some of them in exchange for money.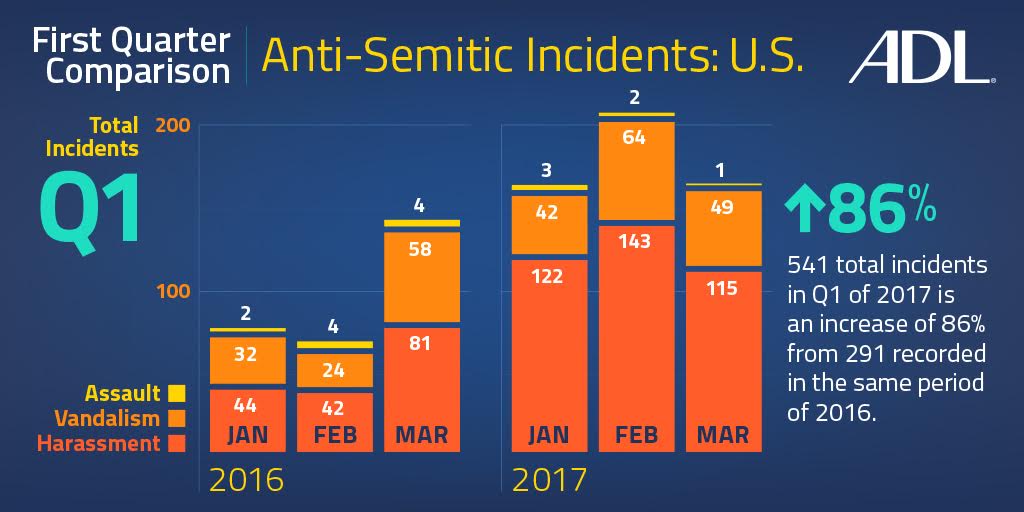 The incidents took place throughout the country, with the majority concentrated in areas with large Jewish populations, including California (211 incidents), New York (199), New Jersey (157), Florida (137) and Massachusetts (125).
"Clearly, we have work to do and need to bring more urgency to the fight," Greenblatt added. "At ADL, we will use every resource available to put a stop to anti-Semitism. But we also need more leaders to speak out against this cancer of hate and more action at all levels to counter anti-Semitism."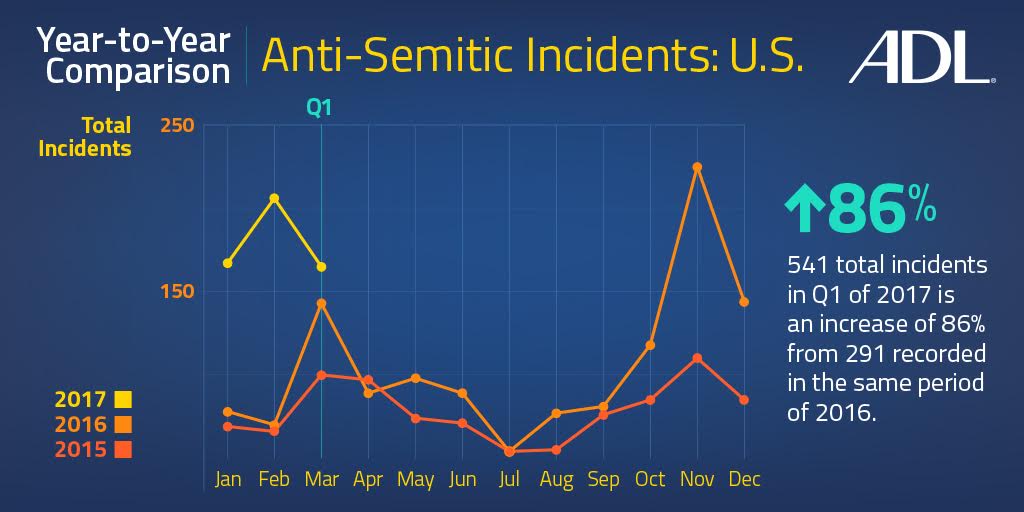 For the last several months, Jewish groups have expressed concern about the growing trend of anti-Semitic vandalism and harassment across the country.
Since January, recurrent bomb threats have hit Jewish community centers, Jewish day schools and other institutions nationwide, causing the evacuation of dozens of centers and prompting some parents to remove their children from JCC programs.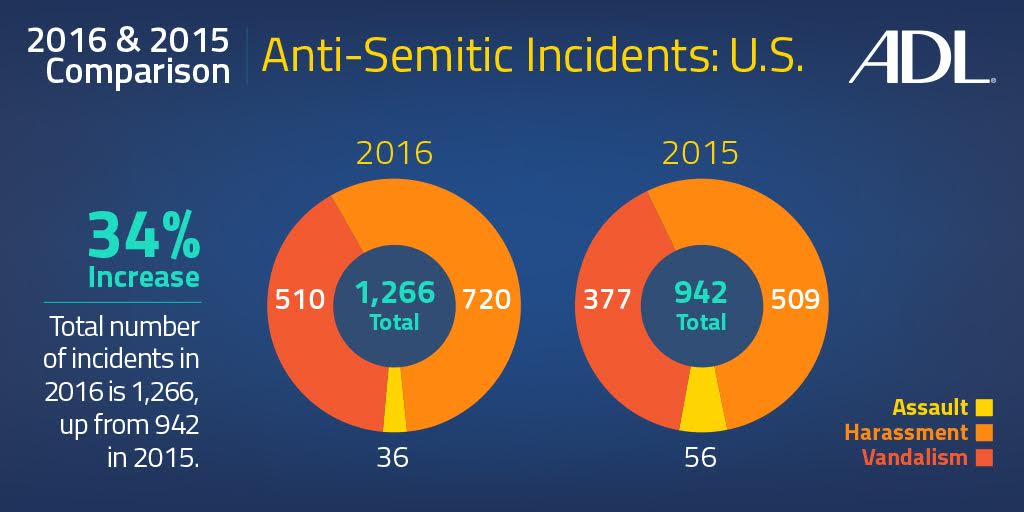 There have also been repeated incidents of swastikas being drawn on schools and other buildings, and hundreds of Jewish tombstones that have been vandalized in the US.
The ADL cited the 2016 campaign season — and particularly the candidacy of US President Donald Trump — as a catalyst for anti-Semitic activities and said there were 34 specific incidents associated with the election.
"The 2016 presidential election and the heightened political atmosphere played a role in the increase," the organization said in a press release. "For example, in Denver, graffiti posted in May 2016 said 'Kill the Jews, Vote Trump.' In November, a St. Petersburg, Florida man was accosted by someone who told him, 'Trump is going to finish what Hitler started.'"
Over the course of the campaign, Trump was strongly criticized for initially failing to disavow David Duke, the former KKK leader, who endorsed his candidacy enthusiastically. He also drew the support of the alt-right movement, an amorphous designation that encompasses a broad swath of white supremacists, neo-Nazis and far-right ideologues.
Since the waves of bomb threats to Jewish centers started in January, some Jewish leaders have expressed frustration at the administration's handling of the matter — including a seeming reluctance on Trump's part with forcefully condemning or even addressing these occurrences.
In February, Trump opened his maiden speech to a joint session of Congress denouncing anti-Semitic attacks, but the remarks came hours after he reportedly told a group of state attorneys general visiting the White House that he suspected the bomb threat calls may have been planted out of political motives.
http://www.timesofisrael.com/anti-semitic-incidents-surge-86-in-us-at-start-of-2017-adl/