Rev. Farrakhan to Followers: 'White People Deserve to Die'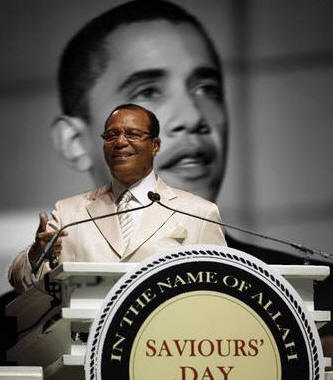 The Rev. Louis Farrakhan, leader of the Nation of Islam, told his followers in a sermon laced with racist invective and "allahu akbars" that white people deserve to die.
The three-hour sermon, delivered last week according to Gateway Pundit, came after reports that he had called for 10,000 volunteers to "kill white people if the government doesn't give the black community 'justice,'" the website reported.
In a video of the Aug. 13th sermon, said, "I wouldn't bring our young women and young men into some place to be slaughtered. But that's what the white man hopes for. That's why he makes mischief with my words. 'Farrakhan wanna get an army to kill people,' because, you see, white people deserve to die. And they know so and they think it's us coming to do it. No, no, no."
Farrakhan also said in the video that a God will send a UFO, "a chariot" or "wheel in the sky," to rescue his followers and carry out justice if a race war began.
http://www.newsmax.com/Newsfront/louis-farrkhan-kill-white/2015/08/15/id/670304/