Self-Hating Jews Fight Bill That Defines Demonizing Israel as Anti-Semitism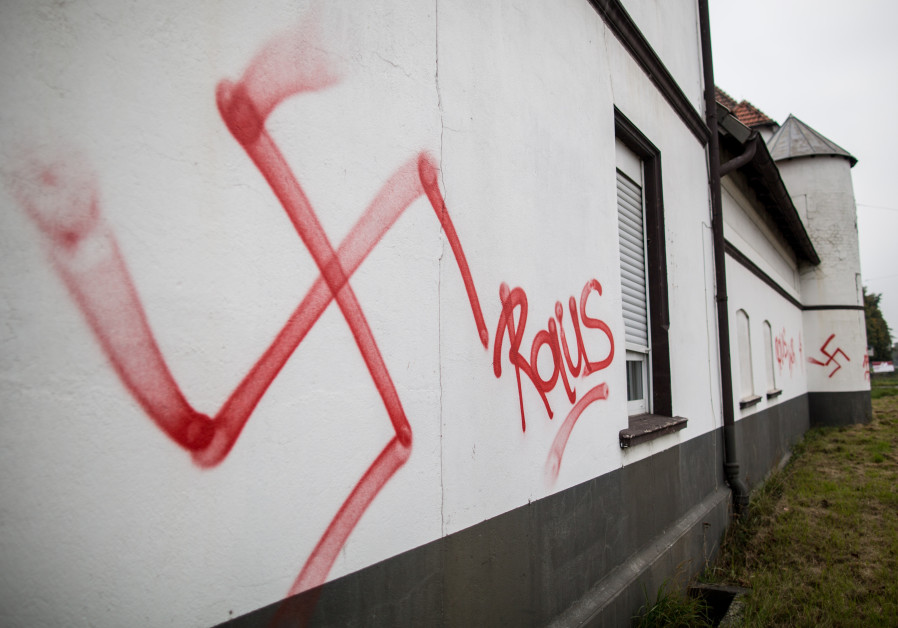 Jewish and pro-Israel leaders exchanged heated remarks at a congressional hearing on how to define antisemitism.
Tuesday's hearing of the House Judiciary Committee took up a bill that would, among other things, define as antisemitic language that "demonizes" Israel.
Of the nine witnesses who addressed the committee, five said the language was necessary to stem antisemitism on campuses. Four argued it infringes on freedom of speech.
The witnesses at times directly addressed one another, violating congressional protocol. Exchanging barbs, each side questioned the bona fides of the other in defining anti-Semitism. In a bizarre twist, the co-authors of the language that the bill would codify argued opposing viewpoints.
Lawmakers, who also bickered at times, marveled at the Jewish family food fight they were witnessing.
"It's like throwing a ball and having a scrum and seeing who wins," said Rep. Doug Collins, R-Ga.
At issue is the Anti-Semitism Awareness Act, which would codify the State Department's definition of antisemitism. The proposed addition to federal anti-discrimination statutes would apply to Title VI of the 1964 Civil Rights Act, which addresses institutions, including universities, that receive federal funding. A version has passed in the Senate.
The language, in its current State Department formulation, includes a section that defines as antisemitism language that "demonizes" Israel. It breaks down the term "demonizes" as "[u]sing the symbols and images associated with classic anti-Semitism to characterize Israel or Israelis, drawing comparisons of contemporary Israeli policy to that of the Nazis, blaming Israel for all interreligious or political tensions."
Several Jewish groups have filed Title VI complaints on behalf of Jewish students who said they faced anti-Semitic harassment and discrimination because of their support for Israel, or were subject to anti-Israel invective that advocates said echoed "classic" anti-Semitism.
Advocating for the proposed language were top officials of the Anti-Defamation League, the American Jewish Committee, the Simon Wiesenthal Center and Christians United for Israel, as well as Paul Clement, a former US solicitor general.
Opposing were two Jewish studies professors, the director of PEN America — a speech freedom umbrella — and Kenneth Stern, the head of an outfit that combats anti-Semitism.
Stern, who drafted the language in question when he worked for the American Jewish Committee in 2004, opposes codifying the language into law, although he still endorses the language for its intended use — as a means for diplomats to identify anti-Semitism.
In his testimony Stern, who directs the Justus & Karin Rosenberg Foundation, said the tough standards he would apply to a speech at the United Nations by Iran's president should not apply to college freshmen. He said it would be especially cruel to young Jews still testing their boundaries within the community.
"Whether or not you can be an 18-year-old anti-Zionist and within the [Jewish] community is not a debate Congress should decide," he said.
Proponents said the bill would not inhibit speech because the definition would only be applied when assessing whether an act banned under Title VI — violence or a bid to shut off speech — was antisemitic, and not to antisemitic speech in and of itself.
"It wouldn't raise First Amendment problems, it would only be triggered by harassment," Clement said.
That, Stern replied, was "disingenuous" — a federal statute would naturally inhibit speech.
"When you prioritize a certain definition, it has the weight of having Congress behind it," he said.
Barry Trachtenberg, a Jewish studies professor at Wake Forest University in North Carolina, seemed to accuse proponents of the legislation of bad faith.
"They are part of a persistent campaign to thwart scholarship, debate and activism critical of Israel," he said.
The Simon Wiesenthal Center's Rabbi Abraham Cooper and the ADL's Jonathan Greenblatt fired shots at Trachtenberg and at Pamela Nadell, the president of the Association for Jewish Studies, saying that academics were not in the trenches. Cooper chided the committee for inviting them.
"It's like inviting people from the Flat Earth Society to a hearing about NASA," he said.
Greenblatt suggested they were ensconced in an ivory tower.
Cooper seemed visibly uncomfortable crowded next to Trachtenberg at the witness table, who kept staring at him. Cooper kept emphasizing that the Jewish leadership in its entirety backed the bill, seeming to sideline Stern's organizational affiliation. At one point Cooper's insistence that the entire Jewish community backed the bill drew a correction from Rep. Jerrold Nadler, D-N.Y., who produced a letter from J Street U, the liberal Middle Eastern lobby's campus affiliate, opposing the bill.
Some lawmakers vigorously backed the bill. Rep. Ted Deutch, D-Fla., the Jewish lawmaker who wrote the bill with Rep. Pete Roskam, R-Ill., was infuriated by Stern's claim that the bill would victimize freshmen searching for answers.
"Saying this is an effort to go after Jewish anti-Zionists is the reddest of red herrings," he said.
http://www.jpost.com/Diaspora/Its-Jew-vs-Jew-as-Congress-weighs-a-new-definition-for-antisemitism-513941