Seventh Grader: Teacher Told Class God Is a Myth–and Grades Depended on Agreeing
A seventh grade student in Katy, Texas says that her reading teacher instructed her class that God is a "myth" and that any student who says God is a "fact" or an "opinion" is wrong.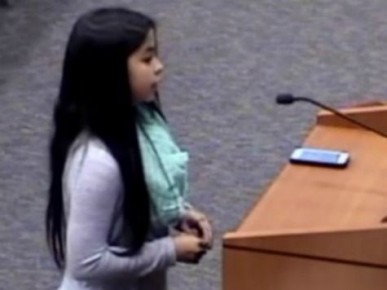 Jordan Wooley, a straight-A student at the West Memorial Junior High School–part of the Katy Independent School District (ISD)-said she and her classmates were told by their reading teacher that God is not real and that answers to the contrary would warrant their grades being docked.
According to a report in Covering Katy, Jordan and her class were administered a test on the existence of God on Monday.
"We were asked to take a poll to say whether God was fact, opinion or a myth, and she (the teacher) told anyone who said God was a fact or an opinion that they were wrong," she said.
Jordan's mother, Chantel Wooley, said the test accounts for about 40 percent of her daughter's grade in the reading class. Despite this, she said her daughter was not willing to renounce her faith in God.
Wooley continued that the exercise about God did not come from a workbook, as the students do not use workbooks in this class.
According to the report, Jordan's teacher taught several other classes that day, all of which included the same instructions about God.
At the Katy ISD school board meeting, Jordan spoke during the public comments portion and said, "Another child had asked the teacher if we could try to put what we believe on the paper, and she [the teacher] said you can if you want to get it wrong."
"It appears the teacher was not following Katy ISD's curriculum, because Memorial Junior High students who have a different reading teacher said God was never mentioned in their class, according to Wooley," says the report.
Superintendent Alton Frailey responded to Jordan, "I'm truly sorry that you feel that your faith was questioned."
"What's going on is that the principal was made aware of this today and is going to have a chance to work on that as per district policies and procedures," he added. "We definitely will look into that. Thank you very much. It was very brave of you. Thank you, honey. Good job."
Wooley said her daughter was called to speak to the school principal on Tuesday morning. She added that she was not invited to be present during the meeting.
http://www.breitbart.com/big-government/2015/10/27/seventh-grader-reports-teacher-instructed-class-god-myth/