Sick image of baby with gun, grenade and Islamic State birth certificate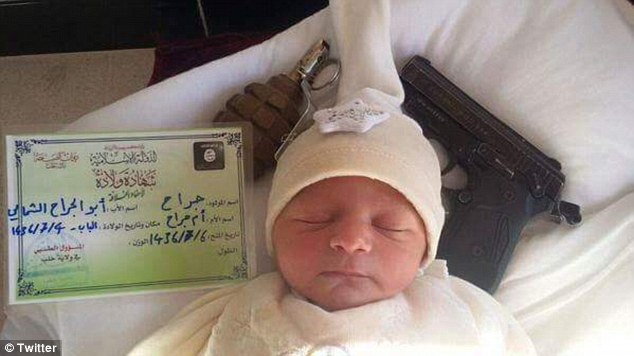 A sickening image linked to the Islamic State terrorist group has surfaced showing a newborn baby sleeping next to a grenade, a handgun and what appears to be a birth certificate.
The image, which has not been verified, was re-posted by anti-ISIS activists in Syria with the warning: 'This child will be risk to you not just to us'.
Posted to Twitter on Sunday by Abu Ward Al-Raqqawi, the group claims the chilling snapshot was originally taken by the terror organization to [indoctrinate] the next generation of jihadis.
The post says the newborn child is called 'Jrah', while its mothers name is 'Om' and its fathers name is 'Abu.'
It also claims the certificate next to the baby is an 'ISIS issued ID for a child.'
The image was believed to be posted by Abu Ward Al-Raqqawi in the hope of garnering attention to the international threat posed by ISIS.
[Daily Mail News]