Steny Hoyer: Trump Is Good for Liberal Democrats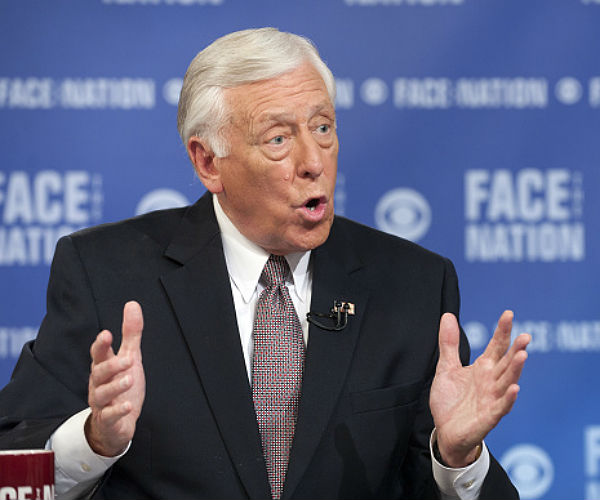 Democratic whip Steny Hoyer said Tuesday Donald Trump's improbable rise to the top of the Republican Party during the presidential primary season is a good thing for Democrats.
Hoyer, a congressman representing Maryland's 5th district, thinks the fractured GOP will lead to Democrats getting more votes come November.
"Democrats are in good shape," Hoyer said, reports The Hill. "I think we are, in fact, doing better. I think the environment is better for us. And I think we're going to pick up a substantial number of seats."
Hoyer referenced a New York Times/CBS News survey that concluded 60 percent of Republican primary voters are "mostly embarrassed" of their party after seeing how the primary season has panned out. Thirteen percent of Democrat primary voters said the same about their party.
"On our side you have a very substantive debate between two obviously qualified candidates," Hoyer said.
"In the polling, about two-thirds of the American people — which includes obviously Republicans and independents — do not believe Trump is a responsible candidate for president of the United States [or] that they would feel comfortable having him as the leader of the country. In that context … I think the environment is good for us."
Trump has a strong lead in the polls, and he's hoping to expand his primary lead Tuesday night when votes are tallied in Arizona and Utah.
Trump's message has resonated with Americans. Texas Sen. Ted Cruz and Ohio Gov. John Kasich are his only competitors left, and they are far behind.
Anti-Trump sentiment is strong in many circles, however. Massachusetts Sen. Elizabeth Warren called him a "loser" in a Facebook post Monday.
http://www.newsmax.com/Headline/steny-hoyer-trump-good-democrats/2016/03/22/id/720357/