'Third Man' in Garland Terror Attack Linked to Islamic State, Targeted Super Bowl, Malls and Military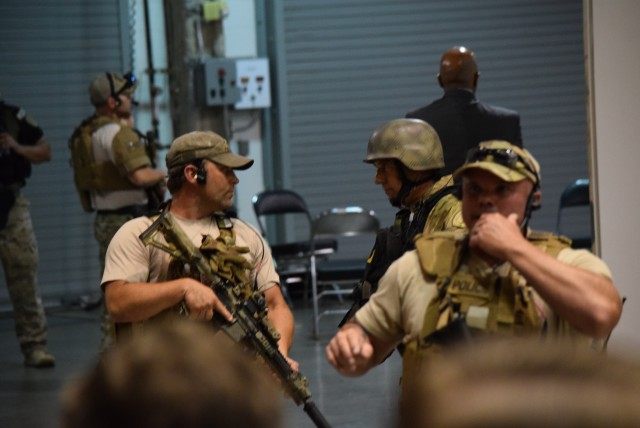 The federal government filed a second superseding indictment against Abdul Malik Abdul Kareem, a.k.a. Decarus Thomas, the Arizona "third man" connected with May's foiled Garland, Texas, terrorist attack, alleging a direct link between Kareem and the Islamic State.
The indictment handed down by a grand jury on December 22 provides the clearest possible link yet between Kareem, 44, and the Islamic State terrorist organization, which claimed credit for the May 3 Garland shooting. Although the indictment does not allege that Kareem communicated directly with the group, it charges conspiracy to provide material support to a foreign terrorist organization because of a list of U.S. military members Kareem allegedly accessed from the Islamic State.
In June, 2014, Kareem, Elton Francis Simpson, 34, and Nadir Hamid Soofi, 30, began a conspiracy to support the Islamic State the indictment states. They pledged themselves and their services to attacking targets in the United States. The targets included military bases, military service members, shopping malls, Super Bowl XLIX and the Garland-held Muhammad Art Exhibit and Contest.
Kareem began hosting meetings at his Phoenix home with Simpson and Soofi in February 2015 to discuss "attacking" the Muhammad Art Exhibit once its organizers announced the May event date. According to the indictment, on the event day, Simpson and Soofi drove from their home in Phoenix to Garland where they got out of their car and opened fire with assault weapons during the Muhammad Art Exhibit held at the Curtis Culwell Center. A Garland police officer killed the two assailants. A school security guard was wounded during the attack.
When authorities later searched Simpson and Soofi's apartment, they found a handwritten note with U.S. military member's names, addresses and personal information. That information came from an Islamic State list, according to the indictment, which noted that "on or about March 20, 2015, Simpson accessed materials published by the Islamic State that contained residential information for U.S. military service members." The Islamic State called for supporters to attack such military service members.
Count 5 of the indictment charges that Kareem, Simpson and Soofi "knowingly and intentionally conspired to provide 'material support or resources'…, including  services and personnel, to a foreign terrorist organization, that is, the Islamic State of Iraq and the Levant (ISIL), which at all relevant times was designated by the Secretary of State as a foreign terrorist organization…"
The indictment also shows Kareem's conviction to the Islamic State cause and the lengths he went to radicalize Soofi and Simpson into jihadists, citing that Kareem "exhorted and encouraged Simpson and Soofi to engage in violent activity to support [lslamic State] and impose retribution for United States military actions in the Middle East."
It stated that Kareem arranged and provided transportation for Simpon and Soofi's shooting trips in "remote desert areas" near Phoenix, also giving "guidance" to the Garland shooters on how to operate and fire assault rifles. Between February 2014 and May 1, 2015, Kareem allegedly nurtured Simpson and Soofi in watching videos that contained inspirational Islamic songs or "nasheeds" that "depicted people wearing black masks and head scarves riding in trucks with black flags mounted on them and shooting rifles." Also, between June 2014 through March 2015, the three men researched travel to the Middle East for the purpose to support and even to fight alongside the Islamic State. By October 2014, Simpson was sharing Islamic State torture videos on Twitter.
The feds originally indicted Kareem in June on conspiracy charges, transporting weapons across state lines, and giving false statements to investigators, which Breitbart Texas reported, also noting that Kareem, a convert to Islam, "attended the same north Phoenix mosque as Soofi and Simpson, though mosque president Usama Shami said Kareem infrequently attended. In June, the prosecutor said Kareem became interested in conducting jihad attacks on American soil after the Charlie Hebdo massacre in Paris, according to Breitbart News.
Cosme Lopez, a spokesman for the U.S. attorney's office in Phoenix, which is prosecuting Kareem, declined to say whether authorities believe the Garland attack was carried out on behalf of the Islamic State, the Los Angeles Times reported.
http://www.breitbart.com/big-government/2015/12/27/third-man-garland-terrorist-attack-linked-islamic-state-say-feds/