Trump administration sends armored vehicles to Muslim Syrian "rebels" connected to Al Qaeda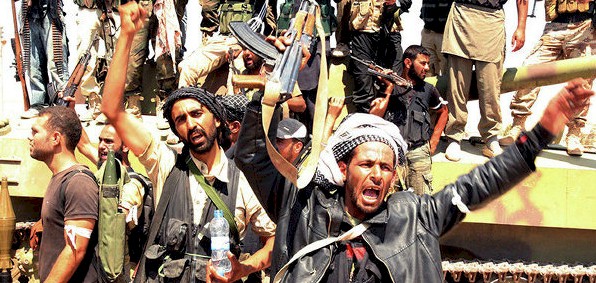 So while Russia sends missiles to the Syrian government, Trump sends armored vehicles to the Al Quaeda connected so-called "rebels".
The Syrian Democratic Forces (SDF), an alliance of Arab and Kurdish forces in northern Syria, has received armored vehicles from the US, indicating increased support from Washington under the administration of President Donald Trump.

A small number of vehicles arrived four or five days ago, SDF spokesman Talal Silo told Reuters.

"Previously we didn't get support in this form, we would get light weapons and ammunition," he added. "There are signs of full support from the new American leadership – more than before – for our forces."

The shipment was confirmed by Pentagon spokesman John Dorrian, who said it was made "using existing authorities, in the interest of helping protect our partnered force from the (IS) improvised-explosive device threat."
So here we go again giving money and weapons to terrorists:
A Syrian rebel group's April pledge of allegiance to al-Qaeda's replacement for Osama bin Laden suggests that the terrorist group's influence is not waning and that it may take a greater role in the Western-backed fight to topple Syrian President Bashar Assad.

The pledge of allegiance by Syrian Jabhat al Nusra Front chief Abou Mohamad al-Joulani to al-Qaeda leader Sheik Ayman al-Zawahri was coupled with an announcement by the al-Qaeda affiliate in Iraq, the Islamic State of Iraq, that it would work with al Nusra as well.

Lebanese Sheik Omar Bakri, a Salafist who says states must be governed by Muslim religious law, says al-Qaeda has assisted al Nusra for some time.

"They provided them early on with technical, military and financial support , especially when it came to setting up networks of foreign jihadis who were brought into Syria," Bakri says. "There will certainly be greater coordination between the two groups."
Now Trump can join the leaders of Al Qaeda who call on Muslims to help these Syrian "rebels":
The head of Al Qaeda is calling on Muslims across the Arab world and beyond to support rebels in Syria who are seeking to overthrow President Bashar Assad, and says they cannot depend on the West for help.

In a new videotaped statement, Ayman al-Zawahri calls on Muslims in Iraq, Jordan, Lebanon and Turkey to join the uprising against Assad's "pernicious, cancerous regime."

In the video titled "Onwards, Lions of Syria," Zawahiri criticized the Syrian regime for crimes against its citizens, and praised those rising up against the government.
Here's an idea. Stop giving money and weapons to Muslim terrorists!