Trump On Twitter: "I Have The Absolute Right" To Share Top Secret Classified Intel With Russia
Donald Trump is under fire for sharing what many are alleging is classified information with Russian diplomats. Naturally, the morning after such a story breaks, Donald Trump opened up his Twitter app and decided to defend himself.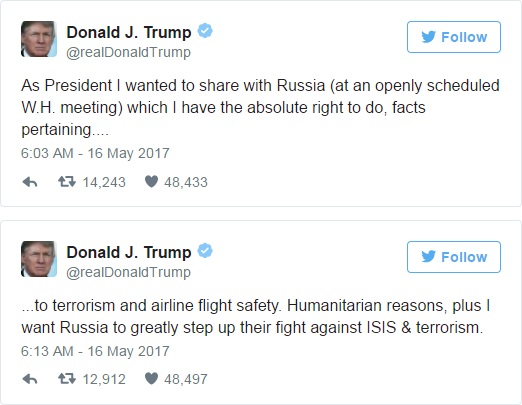 To his credit, Trump's tweets don't discredit what others at the White House have been saying this time. There has been no outright denial that Trump shared information with the Russian diplomats visiting the White House.
Instead, the denials seem to stem from a charge not directly stated by the Post's story: that Trump revealed informants/sources to the Russians. This would be the greater outrage as such a disclosure to a government that, let's face it [is not our ally and is connected to Iran] puts sources like that at great risk.
http://www.redstate.com/joesquire/2017/05/16/trump-twitter-absolute-right-share-info-russia/