Trump's DACA Amnesty Would Bring 1.4M Foreign Nationals to U.S.; Trigger Never-Ending Chain Migration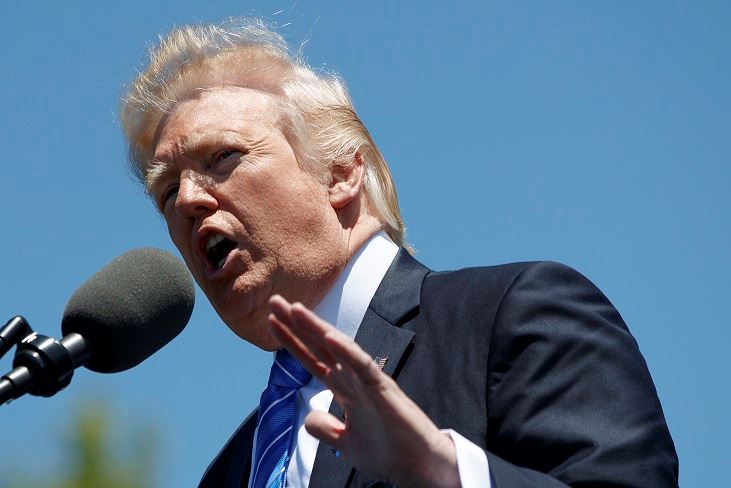 An amnesty for nearly 800,000 illegal aliens shielded from deportation by an Obama-created temporary amnesty program may trigger a never-ending flood of chain migration starting with at least 1.4 million foreign nationals coming to the United States.
In new research, Center for Immigration Studies Director of Policy Jessica Vaughan found that should the hundreds of thousands of illegal aliens shielded by the Deferred Action for Childhood Arrivals (DACA) program be given amnesty – as a few GOP-led bills would do – it would usher in at least 1.4 million legal immigrants coming to the U.S. through chain migration.
The current U.S. legal immigration system is primarily run off chain migration, where legal immigrants and newly naturalized citizens sponsor foreign family members to bring them to the U.S.
Vaughan and fellow researcher Preston Huennekens discovered that for the past 35 years, family-based chain migration has been the main source of legal immigration to the U.S.
"We found that over this 35-year period chain migration has always been a major share of total immigration, and averages out to about 60 percent of total immigration," Vaughan wrote in the memo. "Out of a total of nearly 33 million immigrants admitted between 1981 and 2016, more than 20 million were chain migration immigrants (61 percent)."
Under an amnesty of DACA recipients, Vaughan's research found that the nearly 800,000 illegal aliens would be able to immediately begin bringing in relatives within five years after the amnesty. Once those chain migrants come to the U.S., they too can then begin sponsoring more foreign family members after receiving a Green Card and U.S. citizenship.
Vaughan's research found that even illegal alien siblings of DACA recipients, under an amnesty, could eventually become U.S. citizens.
"The illegally present siblings of naturalized DACA beneficiaries also could be sponsored for green cards," Vaughan noted. "Under the current system, they would face an extended waiting list, likely 20 years or more, depending on their country of citizenship. In addition, they would be subject to the bar on admission after illegal presence, but potentially could find the same ways to get around it as the parents."
Previous research on chain migration by Princeton University researchers Stacie Carr and Marta Tienda brings chain migration totals under a DACA amnesty to much higher levels, as Breitbart News reported.
Based on the Princeton research, the 618, 342 illegal aliens from Mexico who are covered by DACA would be able to bring upwards of four million additional relatives and family members to the U.S. in the years to come.
If the remaining estimated 180,000 DACA recipients brought in three family members each after being amnestied, it would result in additional 540,000 immigrants. Should the remaining 180,000 DACA recipients bring four family members each to the U.S., it would result in more than 700,000 new immigrants.
But if the remaining roughly 180,000 DACA recipients were to bring the same number of family members as Mexican DACA recipients are expected to bring to the U.S., it would result in nearly 1.2 million more legal family-based immigrants coming to the country.
Vaughan's research also concluded what impact Sen. Tom Cotton (R-AR) and Sen. David Perdue's (R-GA) RAISE Act would have on chain migration. Under the RAISE Act – endorsed by President Trump – legal immigration would be cut in half to benefit U.S. workers, while also transforming the chain migration legal immigration system into one where only high-skilled immigrants who meet specific requirements are able to obtain Green Cards.
"If the RAISE Act becomes law, it would reduce the chain migration impact of a DACA amnesty," Vaughan concludes. "The siblings of DACA amnesty beneficiaries would no longer qualify for green cards based on their family relationship, but some might qualify under the merit category, particularly any who have attended college here."
"The admission of the DACA parents would not likely be affected in a significant way," Vaughan continues. "Presumably these parents would be able to qualify for the long-term residency visas as easily as they qualify for green cards under the present system. They will not be able to work legally, but that is unlikely to be a deterrent to their application. Many are working here illegally already and probably would continue doing so. Others are at or approaching retirement age and might drop out of the workforce. However, under the RAISE Act provisions, the sponsored parents would not be able to sponsor additional family members, as they would not have green cards or a path to citizenship, except through the merit category."
In order to stop the never-ending chain migration that a DACA amnesty would cause, Vaughan has recommended that Congress "eliminate entire categories of immigrant visas and green cards that are now reserved for the extended family members of prior immigrants (siblings and adult sons and daughters), and thus facilitate chain migration."
These two categories amount to 85,000 legal immigrants entering the U.S. every year, or roughly 8.5 percent of all legal immigration.
Vaughan additionally recommended eliminating the visa lottery, where 50,000 legal immigrants are allowed to enter the U.S. every year. By eliminating all of these family-based immigration categories, Vaughan concluded that it would cut legal immigration by over 13 percent.
http://www.breitbart.com/big-government/2017/09/28/study-daca-amnesty-would-bring-1-4m-foreign-nationals-to-us-trigger-never-ending-chain-migration/