Trump's own economic advisor NOT happy with how Trump handled Charleston; almost resigned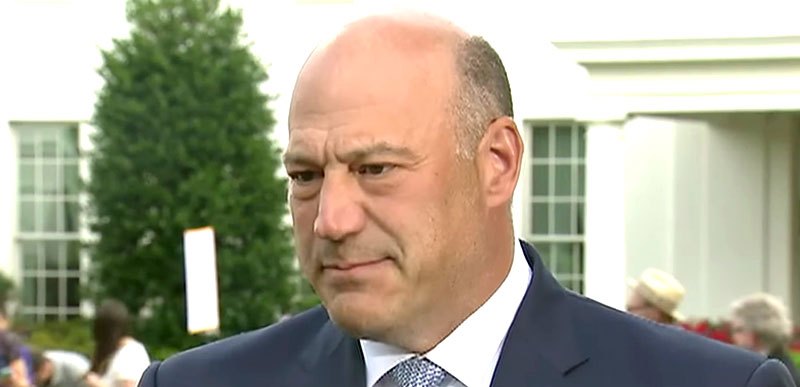 Trump's economic advisor, Gary Cohn, has some tough words for Trump over how he handled Charlottesville:
NY POST – White House economic adviser Gary Cohn said the Trump administration "must do better" to condemn neo-Nazis and white nationalists in the wake of the protests in Charlottesville, according to a report.

The former head of Goldman Sachs told the Financial Times that he faced "enormous pressure" to resign after the president's reaction to the clashes in Virginia that left a 32-year-old woman dead.

Trump, who faced a backlash after blaming "both sides" for the mayhem, later delivered a scripted statement in which he condemned racism. But the following day, he reverted to his earlier stance and said there were "very fine people" on both sides of the violence.

"This administration can and must do better in consistently and unequivocally condemning these groups and do everything we can to heal the deep divisions that exist in our communities," Cohn told the Financial Times in his first public comments on the issue.

Cohn, who with Treasury Secretary Steven Mnuchin is heading Team Trump's efforts to enact tax reform, seriously considered quitting, according to his friends, but decided to stay after speaking with Trump.

"I have come under enormous pressure both to resign and to remain in my current position," he said.

"As a patriotic American, I am reluctant to leave my post… because I feel a duty to fulfill my commitment to work on behalf of the American people. But I also feel compelled to voice my distress over the events of the last two weeks," he said.

"Citizens standing up for equality and freedom can never be equated with white supremacists, neo-Nazis and the KKK," Cohn added.
It's also being reported that Cohn had actually drawn up a resignation letter:
Cohn met w Trump Friday in NJ, per multiple sources. He had even drafted a resignation letter, per those sources https://t.co/GYGhilRf5X

— Maggie Haberman (@maggieNYT) August 25, 2017
I know Cohn said 'this administration' in his remarks, but we all know he was mainly talking about Trump. And I hope Trump takes his advice and doesn't jump on Twitter and start bashing him like he did Jeff Sessions. I mean honestly, you never know with Trump, especially considering…
According to a source close to Cohn – he did NOT clear his statement w/ the WH beforehand-

— Stephanie Ruhle (@SRuhle) August 25, 2017
http://therightscoop.com/trumps-economic-advisor-not-happy-with-how-trump-handled-charleston-almost-resigned/