UN 'alarmed' by Hamas rearming – Yeah right.
From their own actions, the UN proves it would love nothing more that the complete annihilation of the Jews in Israel.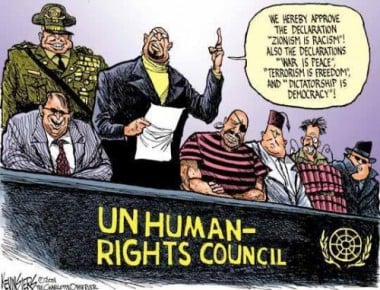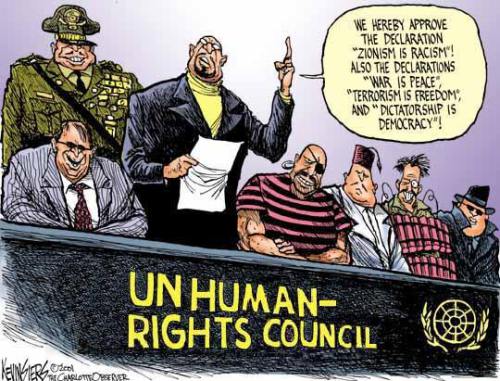 A senior UN official warned Wednesday that the lack of available funds for the "reconstruction of Gaza" and the fragile "ceasefire" between Israel and Hamas [Muslim terrorists] could lead to a "renewal of hostilities" in the coastal enclave.
During a Security Council briefing on the Middle East, Jeffery Feltman, the UN Under-Secretary-General for Political Affairs, also expressed "alarm" at reports of Hamas efforts to re-arm. He called the terror group's test-firing of rockets, and its attempts to smuggle in materials for potential weapons use, "dangerous developments."
Feltman said that the failure of world donors to deliver the billions of dollars in aid pledged to Gaza's reconstruction, together with Israel's withholding of PA tax revenues, was creating a dire humanitarian situation that "threatened to reignite the conflict". [Because it's not Islam and the Koran that tells them to kill Jews… it's that they need more money.]
The under-secretary-general told the council that the countries who pledged some $5.4 billion to rebuild Gaza four months ago in Cairo had "yet to fulfill the vast majority of their pledges."
"This is frankly unacceptable, and cannot continue if we hope to avoid another escalation in Gaza," he told the 15-member council. Feltman warned that the fiscal challenge was putting "an almost unbearable strain on an already highly fractious environment."
…
Gazan terrorists used the tunnels for several attacks during the summer war, sometimes penetrating deep into Israeli territory. Five soldiers were killed in one attack on an IDF post near Kibbutz Nahal Oz, and 11 soldiers died in all in the tunnel attacks.
Hamas, which seized control of Gaza in 2007 and is avowedly committed to destroying Israel, fired over 4,500 rockets at Israel during the 50-day conflict.
Unnamed security sources have said recently that Hamas is working to rebuild its tunnel infrastructure as well as rearm its depleted rocket arsenal.
In October, a Vanity Fair report confirmed rumors that before the summer's war, Hamas was planning to insert hundreds of terrorists into Israel via underground tunnels, to kidnap and kill a large number of Israelis.
http://www.timesofisrael.com/un-alarmed-by-hamas-rearming/