US Deploys More Ships Towards Yemen To Cut Off Iranian Vessels (11 Total)
Wait just a second… I thought Obama trusted Iran enough to give them nuclear technology, end all sanctions, and give these terrorists a $50 BILLION dollar signing bonus. Right?
While Obama spinelessly but furiously works towards removing sanctions and giving Iran their nuclear weapons program, the US Navy deploys more war ships to cut off Iranian supply routes.
Officials giving mixed messages on why US aircraft carrier shadowing Iranian convoy.
More of Obama's incoherent and disastrous foreign policy – which he describes as "counter terrorism successes" (ie Yemen).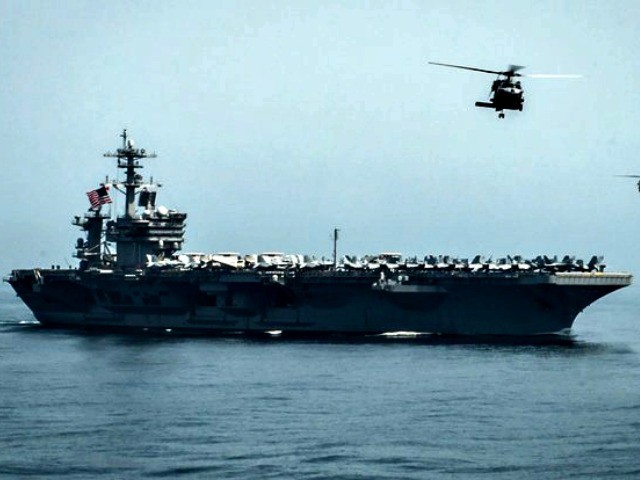 "US Deploys More Ships Towards Yemen To Cut Off Iranian Supply Route," by Edwin Mora, Breitbart, 21 Apr 2015

The aircraft carrier USS Theodore Roosevelt and escort guided missile cruiser USS Normandy were deployed to join 10 other American warships on the waters near Yemen to dissuade Iran from shipping weapons to Shiite Houthi rebels.
"This is really about sending a message," a U.S. official, speaking about the deployment of the ships to Yemen, told The New York Times on condition of anonymity. "It is a message to our partners that we are in this and willing to support. It is a message to the Iranians that we're watching."
"It all has to do with the instability in Yemen. That is why those forces are there and have been recently increased," Cmdr. Kevin Stephens, the spokesman for the Bahrain-based United States Fifth Fleet, told The Times.
The U.S. ships have been deployed to deter "any illegal activity in the area," including the illicit transit of Iranian weapons, he added.
Last Tuesday, the United Nations Security Council imposed an arms embargo on the Iran-backed Houthis and their allies.
CNN reports that the American ships lack the authority to "forcibly" board Iranian-flagged ships.
However, CNN adds that the American warships will be "joining allied vessels from Saudi Arabia, Egypt and other partner nations prepared to intercept a convoy of seven to nine Iranian vessels believed [to be] headed for Yemen. The allies are prepared to board Iranian vessels if they proceed into Yemeni territorial waters."
The Pentagon has denied that the USS Theodore Roosevelt and USS Normandy were deployed to interdict Iranian arms, Reuters reports.
Following the deployment of U.S. ships, Hossein Amir Abdollahian, Iran's deputy foreign minister, expressed optimism about a ceasefire in the Yemen conflict.
"We are optimistic that in the coming hours, after many efforts, we will see a halt to military attacks in Yemen," Abdollahian told Iranian Tasnim news agency on Tuesday, a day after the two ships were deployed, Reuters reports.
In Yemen, Houthi rebels aligned with military units loyal to former Yemeni President Ali Abdullah Saleh have been fighting against Saudi-led airstrikes and armed groups loyal to Yemen's internationally recognized President Abd Rabbo Mansour Hadi.
The U.S. has been increasing its Naval presence in the Gulf of Aden and the southern Arabian Sea amid reports that a convoy of Iranian ships possibly carrying military supplies for the Houthis is on its way to Yemen.
Although the Obama administration described the naval deployment as a show of force, it has also acknowledged that the flotilla could be used to block Iranian military supplies to the Houthi rebels.
The 12 ships are also meant to reassure U.S. ally Saudi Arabia, which has been carrying out a bombing campaign against the Houthis and their allies since March 26.
Unnamed officials told The New York Times that "Saudi Arabia has been bombing in a campaign against the Houthis for weeks, and the United States wanted to make clear to Iran that it backed the airstrikes and shared Riyadh's concerns about a possible rebel takeover in Yemen."
Some of the American ships near Yemen are reportedly carrying 2,000 Marines and have been off the Yemeni coast since before the U.S. evacuated its embassy in Sanaa back in February..
There appears to be friction between the U.S. and Iran, despite the ongoing nuclear negotiations between Washington and Tehran.
"White House officials acknowledged that they were compartmentalizing policy on Iran by confronting the country's aggressive posture in the region even as American diplomats tried to complete an agreement with Iran to limit its nuclear program," notes The Times.
Secretary of State John Kerry and Josh Earnest, the White House press secretary, have criticized Iran's military aid to the Houthi rebels.
Earnest condemned Iran arming the Houthi rebels as "destabilizing" and accused the Islamic Republic of fueling violence in Yemen.
He also denounced Iran arresting a reporter from The Washington Post and accusing him of espionage as "absurd."
President Obama met with Sheikh Mohammed bin Zayed Al Nahyan, the crown prince of Abu Dhabi in the United Arab Emirates, to reassure him and his Sunni allies that are nervous about the nuclear talks with Shiite Iran.
http://pamelageller.com/2015/04/us-deploys-more-ships-towards-yemen-to-cut-off-iranian-vessels-11-total.html/