Why Can't the Kentucky Clerk Get Bail?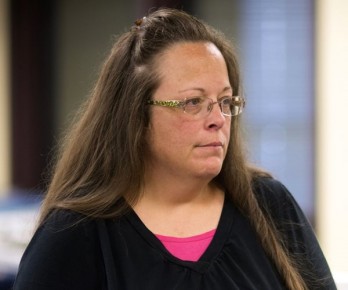 Rowan County, Kentucky Clerk Kim Davis has been jailed without bail since Thursday for refusing to allow her office to issue marriage licenses to same-sex couples.
Her attorney, Matthew Staver, says that even some people accused of murder are allowed to be free on bail while their trail is pending.
"This woman who hasn't done any crime at all," Staver told Newsmax on Sunday. "She's being held without bail for an indefinite period of time. In fact, one of the U.S. marshals when they were directed by the judge to take her into custody told her he had never arrested somebody who had not committed a crime."
GOP presidential candidate Mike Huckabee told ABC's "This Week" Sunday that there is a double standard for liberals and conservatives when it comes to violating same-sex marriage laws. He pointed to former San Francisco Mayor Gavin Newsome and President Barack Obama's former Attorney General Eric Holder for allowing same-sex marriage when it was illegal, yet suffering no consequences.
But Davis, who says same-sex marriage violates her Christian beliefs, is in control of her own destiny, Harvard Law professor Alan Dershowitz tells Newsmax.
"She can get out immediately," Dershowitz said. "All she has to do is resign her job … and say, 'Look, I can't do this in conscience. And because I can't do it in conscience, I really can't hold the job of being clerk.' That's the principled decision."
Davis' being able to continue to serve as county clerk while refusing to issue marriage licenses would be comparable to a conscientious objector, rather than declining to enter the Army, joining instead, then refusing to follow orders, Dershowitz said.
U.S. District Court Judge David Bunning has said he jailed Davis without bail in an effort to force her to comply on the U.S. Supreme Court ruling this summer legalizing gay marriage nationally. Allowing her to pay a fine wouldn't have worked, Bunning said, because Davis has a large group of supporters willing to cover the cost.
Staver, Davis' lawyer, is skeptical that Bunning ever even considered a fine – even though the gay couples seeking the original injuction against Davis specifically requested a fine and not jail time.
The temporary injunction ended at the end of the day August 31, Staver said, and at 10:30 the next morning a motion for contempt was filed. Bunning set a 1 p.m. hearing, allowing only a five-page response, when the rules allow for 20 pages.
When the hearing was held 48 hours later, Bunning already had the jailer – who had to travel from another county – in the courtroom ready to take Davis into custody.
"Then when he read he was going to confine her, he read from a prepared statement he had already written, and didn't give civil penalties at a graduated rate," Staver said. Jailing Davis was the judge's intent "from the very beginning," Staver said.
University of Alabama School of Law professor Ronald Krotoszynski Jr. tells Newsmax that he was surprised as well. A judge usually starts with a fine first, Krotoszynski said, before moving to incarceration. The exception is with journalists who refuse to give up their confidential sources.
Staver is appealing the decision to the Sixth Circuit Court of Appeals, but Krotoszynski said he doesn't expect to see the decision overturned.
Unless the Sixth Circuit finds the judge was "wildy inappropriate" in his ruling, it will stand, he said.
Staver feels differently, telling Newsmax, "This is just this particular judge who violates the rule of law to reach his desired end."
http://www.newsmax.com/Newsfront/kentucky-clerk-bail-gay/2015/09/06/id/673857/